The images and the entire text used on this and all other USMBOOKS web pages are the copyrighted
property of USM Inc. Those images and the text may be used by others ONLY AFTER
completion of a formal international licensing agreement and payment of a licensing fee!
This USMBOOKS web page is Copyright © 2014 by USM, Inc., The text and images on it are fully protected by international copyright law. It is therefore, illegal for anyone to take any of the material found here and use it for their own purposes without our written permission, irrespective of any excuse they may feel they have for doing so.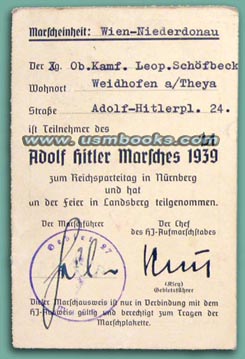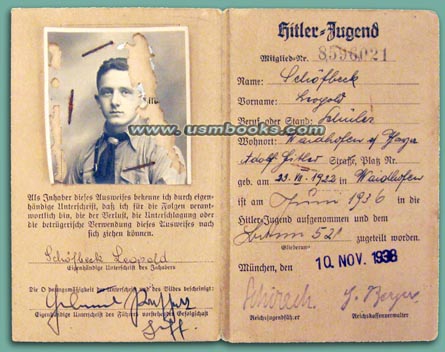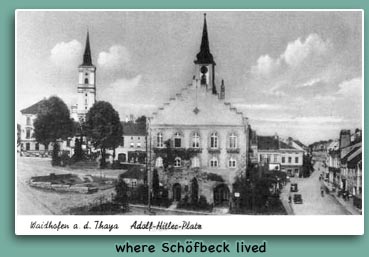 This Third Reich grouping contains original Nazi documents that were issued during the Third Reich to Leopold Schöfbeck, born 23 July 1922 and who lived on Adolf-Hitlerplatz 24 in Waidhofen a/Thaya in Gau Niederdonau.

His Mitglieds-Ausweis der Hitler-Jugend or HJ Membership ID number 8596021 shows that Leopold Schöfbeck became a member of the Hitlerjugend (HJ or Hitler Youth) in June 1936 at age 14. His 6-panel Gesundheitspaß or Health ID issued by the NSDAP states he was healthy and Dr. Viktor Rath of Waidhofen a/Thaya signed and stamped the health declaration.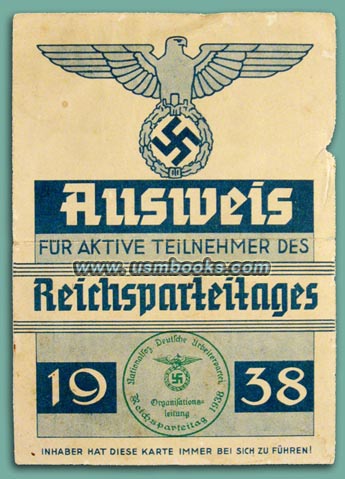 Leopold Schöfbeck was at the 1938 Reichsparteitag in Nürnberg and this lot contains his original "Active Participant" Ausweis or ID. The information on the back shows he was housed at the HJ-Zeltlager or Hitler Youth Tent Camp at Langwasser, at the edge of the Nazi Party Day Grounds.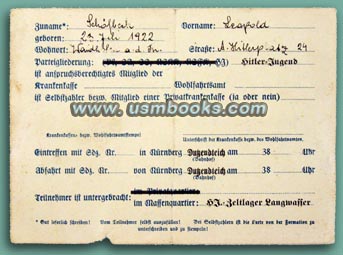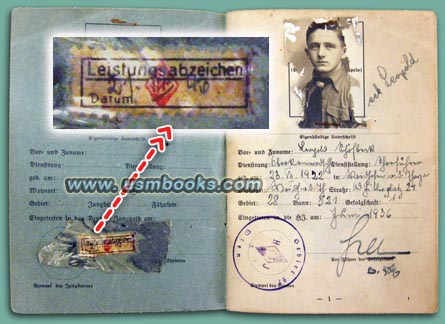 Leopold Schöfbeck was very active in the HJ and his 64-page Hitler-Jugend Leistungsbuch or Hitler Youth Achievement ID contains many entries regarding his performance results of HJ fitness contests (running, marching, shooting, etc.). Taped inside the front cover is proof he was eligible to receive the Leistungsabzeichen in 1940 (see photo above) . Page 44 has the rare entry for his participation in the 1939 Adolf Hitler Marsch from 2 July through 29 September 1939. When was the last time you say this entry in a HJ Leistungsbuch?

Adolf Hitler Marches of German Youth from throughout Germany to Nürnberg took place every year from 1929 to 1939 culminating at the annual Nazi Party Days, and this HJ document grouping also contains Schöfbeck's very rare 2-sided Marschausweis or Marching ID for the 1939 Adolf Hitler Marsch in which he participated with Marscheinheit Wien-Niederdonau. We include a few pictures (not for sale) at the bottom of this USMBOOKS web page from this very march in 1939.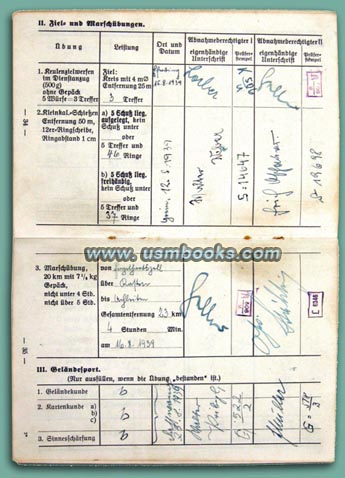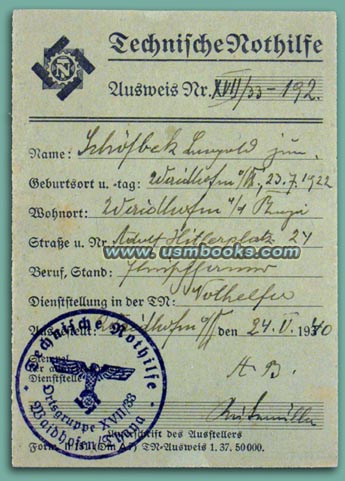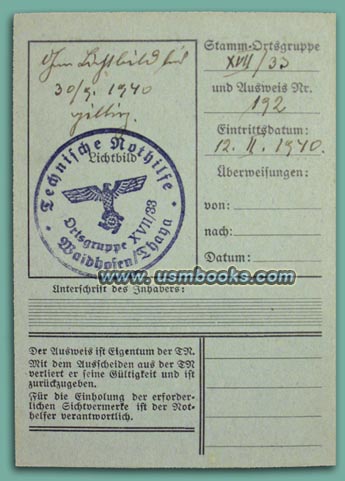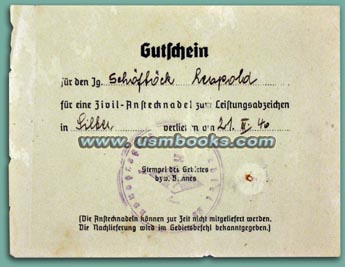 Another rare item is a Gutschein or voucher dated 21 March 1940, a raincheck for the civilian lapel version of the Leistungsabzeichen Silber or Silver HJ Achievement Badge. The fine print at the bottom states the Anstecknadel was not available at the time but that eventual delivery would be announced by the HJ area leadership.
The document in this Third Reich grouping with the latest date is Schöfbeck's membership ID of the Technische Nothilfe or TeNo. It was issued on 24 May 1940 (just before his 18th birthday) and states he became a member of TeNo on 12 February 1940.

All together, these HJ and TeNo documents present a rare glimpse into the service life of a young man in the middle of events in Third Reich Germany. There is some loss of the photo emulsion on the ID photos as can be seen in our pictures.

Leopold Schöfbeck survived World War II and he became a butcher in his hometown of Waidhofen an der Thaya where he died on 27 January 2009.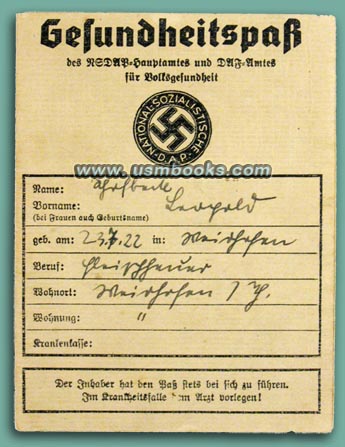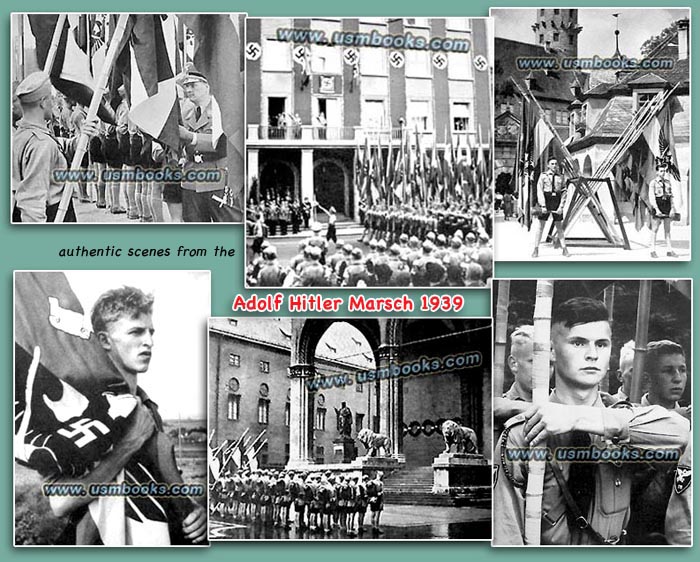 This rare Third Reich document grouping is **SOLD**

• IF you prefer Priority Mail shipping with USPS Tracking add $5.45.
• IF you wish to purchase highly recommended, but optional insurance, add $11.75.
• We will be happy to ship abroad at additional cost. Please inquire.
VERY RARE 100% ORIGINAL HITLER YOUTH & TENO MEMBER
DOCUMENT GROUPING
A 7-PIECE THIRD REICH DOCUMENT GROUPING OF HITLERJUGEND
AND TECHNISCHE NOTHILFE
MEMBER LEOPOLD SCHÖFBECK WHO PARTICIPATED IN THE ADOLF HITLER MARCH IN 1939