The images and text used on this and all other USM web pages are the copyrighted property
of USM Inc. Those images and the text may be used by others ONLY AFTER completion
of a formal international licensing agreement and payment of a licensing fee!
This rare Third Reich Hitlerjugend document lot is
**SOLD** .

• IF you prefer Priority Mail shipping with USPS delivery confirmation add $5.95.
• IF you wish to purchase highly recommended, but optional insurance, add $9.25.
• We will be happy to ship abroad at additional cost. Please inquire.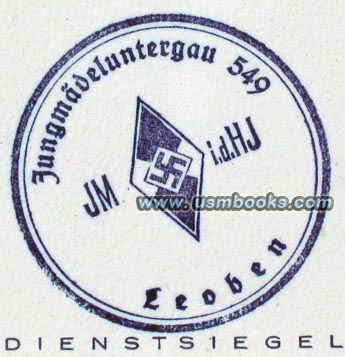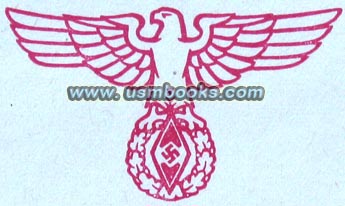 These original Third Reich documents are very rare for several reasons. They are certificates issued to a girl, Karoline Charvath, when she became a member of the Hitler Youth on Hitler's birthday in 1939, and a High School Diploma with a picture of Adolf Hitler issued on 13 July 1944. With it the HJ member saved a Wochenparole der Hitlerjugend with a quote by Hitler Youth leader Baldur von Schirach. Material such as this was tossed in fireplaces all over Germany in the spring of 1945 by most owners! Virtually all such documents that were saved by the recipient were later discarded by embarrassed family members. While the original recipient may have taken justifiable pride in her accomplishments as a girl, the German government's post-war position of "collective guilt" for the crimes of the Nazis meant that few were willing or able to admit their past.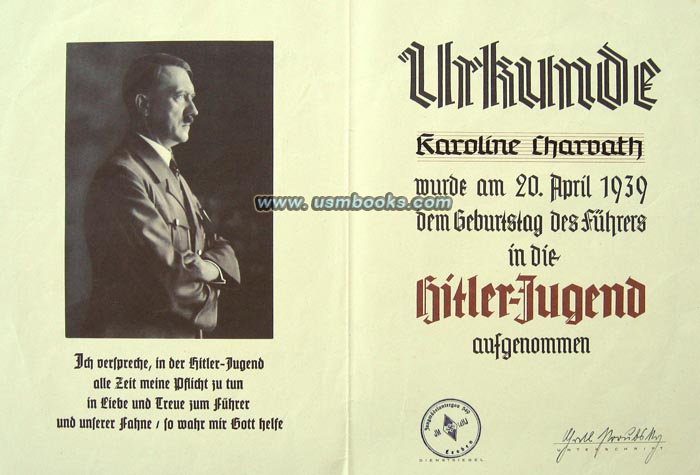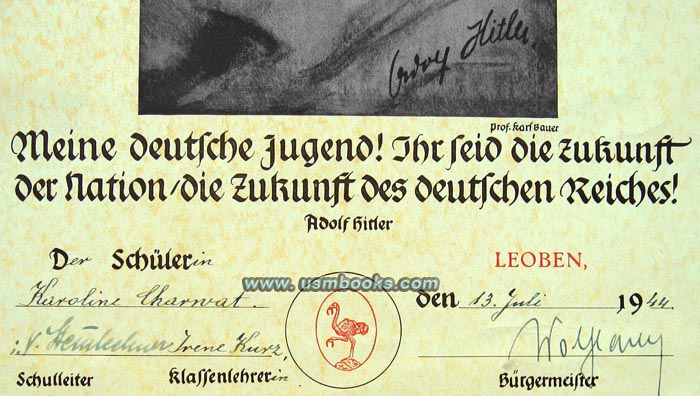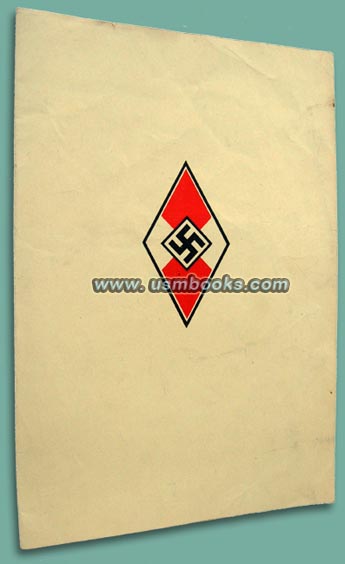 THIS RARE LOT CONSISTS OF
THREE ITEMS:
1) the original Hitlerjugend Urkunde or certificate of Karoline Charvath's Hitler Youth membership (shown above and left).

The 8-1/4 x 11-1/2 inch, 4-panel cream colored document has the HJ diamond insignia on the front cover and a picture of and a quote by Adolf Hitler on page 2. It states that Karoline Charvath became a member of the HJ on 20 April 1939, Adolf Hitler's 50th birthday. It has the Jungmädel stamp of the town of Leoben, Germany at the bottom.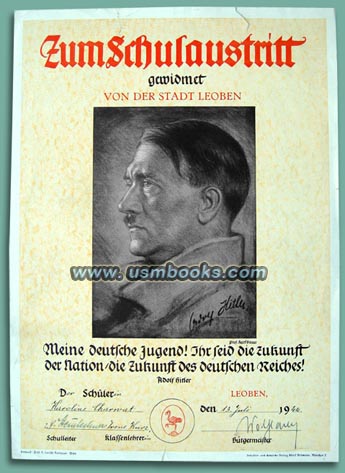 2) a striking 9-5/8 x 13-3/4 inch certificate issued to Karoline Charvath when she finished high school on 13 July 1944 (shown right and below).

It has an Adolf Hitler portrait by Professor Karl Bauer with a facsimile signature of the Führer on it, as well as a Hitler quote about the German Youth being the future of Nazi Germany. The Schulaustritt certificate is signed by Karoline Charvath, by her teacher and by the mayor of Leoben.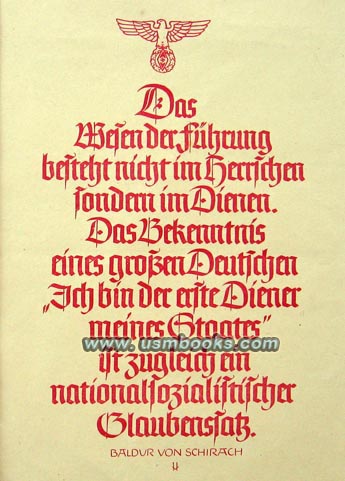 3) shown left, an original 8-1/4 x 11-3/4 inch Wochenparole der Hitlerjugend with a quote by Reichsjugendführer Baldur von Schirach dating from the fall of 1940.

It has a large Nazi eagle and swastika above a quote about serving the National Socialist State, that must have been especially meaningful to the young Hitler-Youth girl.

All three items are absolutely original to the Third Reich period in Germany. They are rare and in nice used condition, exactly as shown on this USMBOOKS web page.
HITLER YOUTH JUNGMAEDEL CERTIFICATES OF A YOUNG GERMAN GIRL
ORIGINAL NAZI HITLER-JUGEND JUNGMAEDEL DOCUMENTS OF A GERMAN SCHOOL GIRL 1939 1940 1944
This USM Books website is Copyright © 2012 by USM, Inc., and the text and images on it are fully protected by international copyright law. It is therefore, illegal for anyone to take any of the material found here and use it for their own purposes without our written permission, irrespective of any excuse they may feel they have for doing so.