The images and the entire text used on this and all other USMBOOKS web pages are the copyrighted property of USM Inc. Those images and the text may be used by others ONLY AFTER completion of a formal international licensing agreement and payment of a licensing fee! It is therefore, illegal for anyone to take any of the material found on USMBOOKS.com and use it for their own purposes without our written permission, irrespective of any excuse they may feel they have for doing so.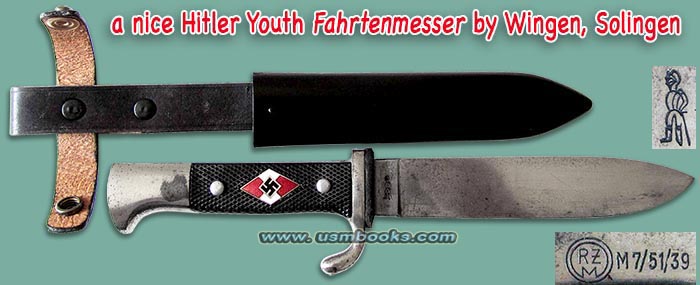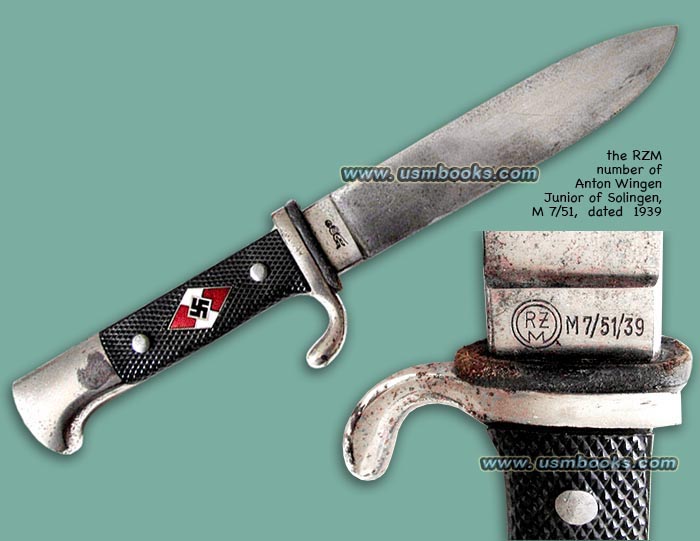 This is a genuine Third Reich Anton Wingen Jr. Solingen Hitlerjugend (HJ or Hitler Youth) dagger or knife (Fahrtenmesser) that we have owned for several years that an American veteran brought home from Germany in 1945 (see the "CONDITION" paragraph at the bottom).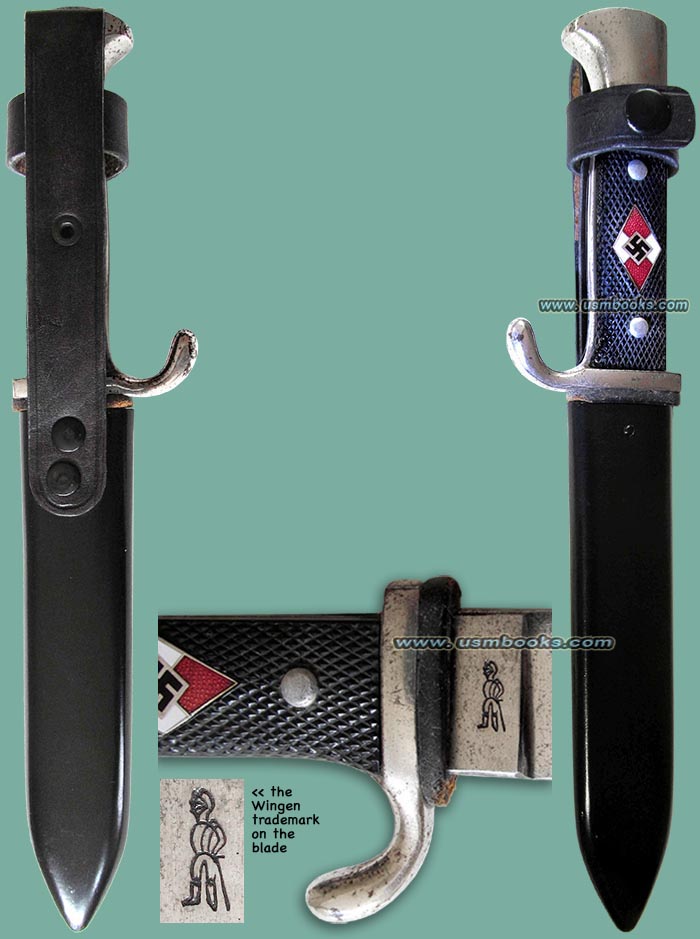 In photographing the knife and especially the blade, we had the opportunity to make the blade look much better, but chose light and angles that show the pull marks and aging in the most obvious possible way. This is a very good original HJ knife blade with a fine RZM and Wingen logo stamp on it.

The scabbard is the original pressed steel type (not diecast pot metal) and it has a set of zinc plated springs riveted inside to grip the blade firmly. The 5-7/8 inch long scabbard has been repainted and the leather hanger has been replaced at some time with a new one.

The knife is 9-13/16 inches (249 mm) long, 5-5/8 inches (143 mm) of that being the blade from the hilt to the tip.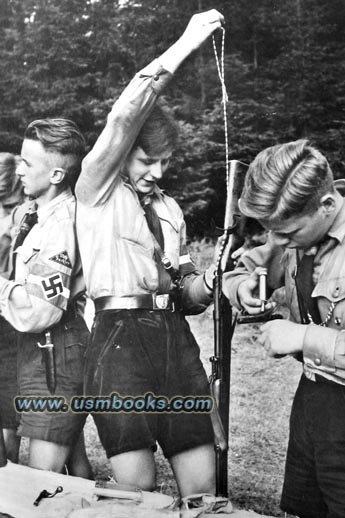 CONDITION: this is a very respectable, genuine service-used HJ knife, beautifully maker and RZM marked, with a genuine but refurbished HJ knife scabbard. Weighs 11-½ ounces.
As it should be, this knife has NO Blut und Ehre! (Blood and Honor!) etched on the right side of the blade. The RZM double-circle logo and the letters M7/51/39 are deeply stamped into the left side of the blade at the hilt. On the right side of the blade at the hilt is a deeply stamped armored knight logo of the Wingen firm. The leather buffer adjacent to the hilt at the top of the blade is original and in very good condition. The knife blade has been sharpened (probably once) a long time ago, and is exactly as it was when we got it. The checkered handles are in excellent used condition, held in place by the original rivets. The plating on the non-magnetic handle is mostly there.
This fine 1939 Anton Wingen Jr. Solingen HJ knife is **SOLD**

• IF you prefer faster and safer Priority Mail shipping with USPS Tracking add $7.25.
• IF you wish to purchase highly recommended, but optional insurance, add $7.05.
• We will be happy to ship abroad at additional cost. Please inquire.
1939 NAZI HITLER YOUTH KNIFE OR HJ FAHRTENMESSER
ANTON WINGEN JR. SOLINGEN RZM M7/51/39
A BEAUTIFUL AUTHENTIC ANTON WINGEN JR. HITLER JUGEND DAGGER AS BROUGHT HOME BY AN AMERICAN WORLD WAR II GI