The images and text used on this and all other USM web pages are the copyrighted property
of USM Inc. Those images and the text may be used by others ONLY AFTER completion
of a formal international licensing agreement and payment of a licensing fee!
This genuine Nazi Navy Gösch is
**SOLD**

• IF you wish to purchase optional insurance, add $6.95.
• We will be happy to ship abroad at additional cost. Please inquire.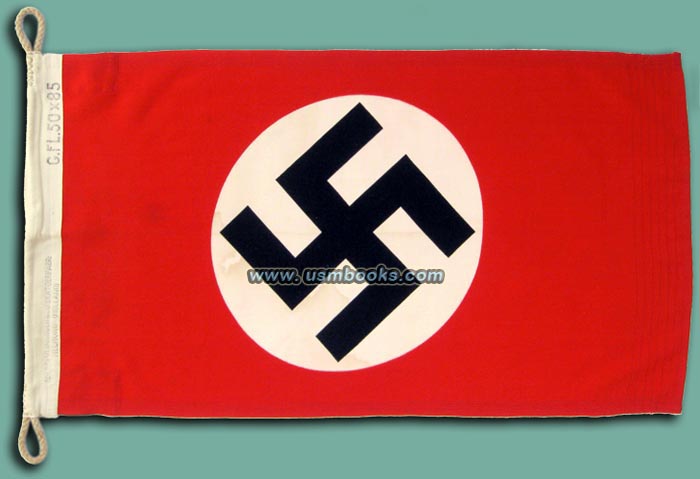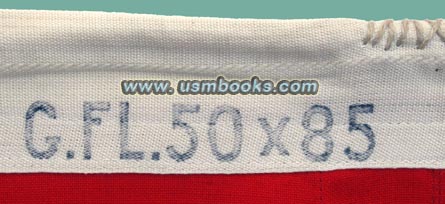 A "jack" (Gösch in German) is a small version of the national flag of any country that is flown from a jackstaff on the bow of a war ship to indicate its nationality, while a military or war ensign is flown on the stern. A jack is shown flying from the jackstaff on a new Nazi submarine in the Krupp Germania Wharf in Kiel on the right.

The splendid original all wool 19 x 34 inch (50 x 85 cm) Gösch or jack that we offer here has seen very, very little use. The colors are bright, there is no wear, and there are no holes.

There is a 2-loop rope sewed into the white reinforcement along the hoist edge. Both corners of the hoist edge are reinforced as are the top, bottom and fly edge of this Nazi flag. Both sides of the jack flag display a 13-1/2 inch white disk near the center with a 9-1/2 inch black swastika centered in it.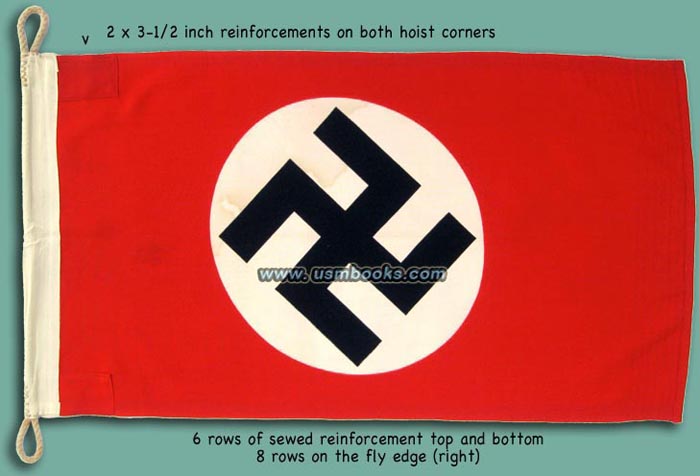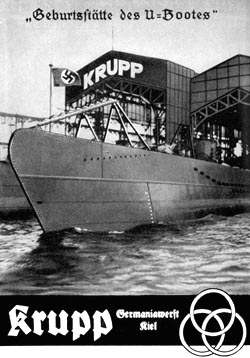 The obverse of the jack has G.FL. 50 x 85 printed on it in 5/8 inch letters on the white reinforcement on the hoist edge. G.FL. is the German abbreviation for Gösch FLagge and 50 x 85 is the size of the flag in centimeters. Also written on the white reinforcement on the hoist edge of the front side is the name N.V.P.F. v. Vlissingen & Co's Katoenfabr. Helmond (Holland), the manufacturer of the flag. N.V.P.F. v. Vlissingen & Co's Katoenfabriek Helmond (Holland) translates as Pieter Fentener van Vlissingen & Co Cotton Factory of Helmond, Holland, a company that was founded in 1802 and manufactured flags for the occupying Germans during World War II. The company is still in business today as Vlisco. The Kriegsmarine was of course, in charge of all ports and shipping in Occupied Holland during the Second World War, and used many Dutch vendors to supply their needs.
Few collectors have ever seen a Third Reich German Gösch or jack, and fewer yet have ever seen one in this splendid condition. A very rare and historic piece in truly fine condition with the minor exception of light tan staining in the lower left quarter of the white circle, which can probably be removed by dry cleaning.
RARE NAZI NAVAL JACK OR GÖSCH
A KRIEGSMARINE GÖSCH OR JACK FLAG - A SHIP'S SMALL VERSION OF THE GERMAN NATIONAL FLAG
This USM Books website is Copyright © 2013 by USM, Inc., and the text and images on it are fully protected by international copyright law. It is therefore, illegal for anyone to take any of the material found here and use it for their own purposes without our written permission, irrespective of any excuse they may feel they have for doing so.