The images and text used on this and all other USM web pages are the copyrighted property
of USM Inc. Those images and the text may be used by others ONLY AFTER completion
of a formal international licensing agreement and payment of a licensing fee!
This superb Nazi SS gravy boat by H & C Schlaggenwald
is offered for sale for $2900.00.

• For postage & USPS delivery confirmation add $20.00 to the price shown above.
• IF you wish to purchase optional insurance, add $30.00 to your payment of $2920.00.
• We will be happy to ship abroad at additional cost. Please inquire.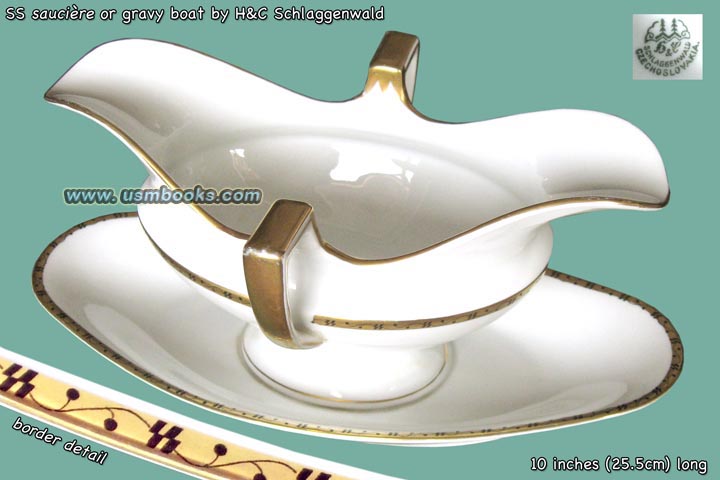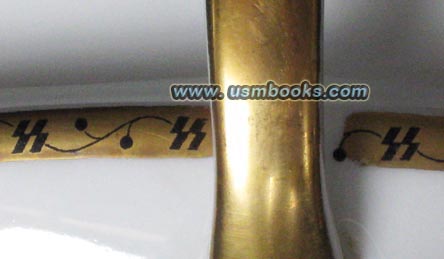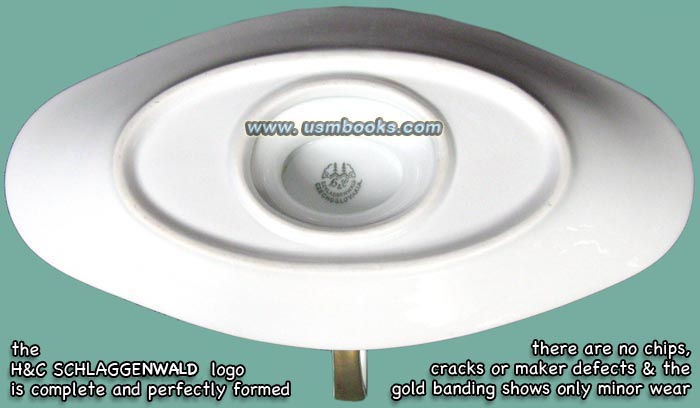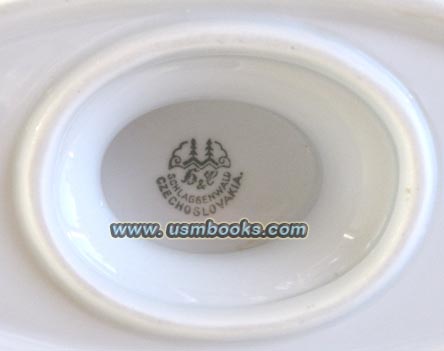 This is without any doubt, the finest piece of Nazi china we have ever been able to buy in Europe. It is a one-piece saucière or gravy boat in pure white porcelain, trimmed along the edge of the saucer and around the middle of the bowl with a 24k gold band, 5 mm wide, filled with twin SS Siegrunen in black, each pair separated by a fine undulating black vine and berries. The base and upper lip of the bowl are both outlined in gold and the outer surfaces of both handles are covered in gold.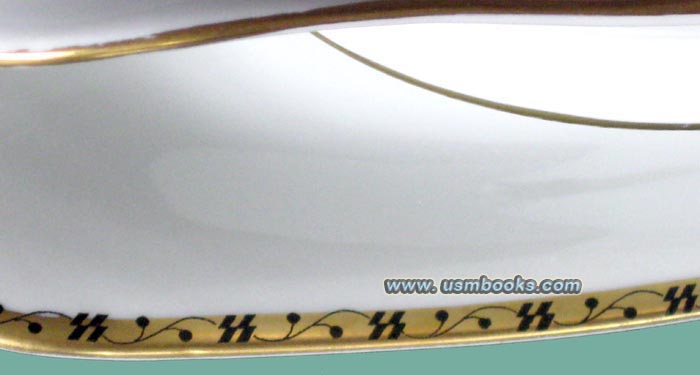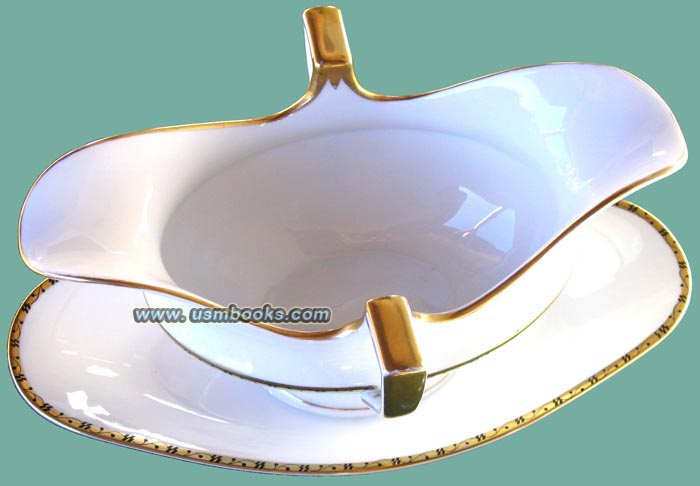 This saucière is the magnificent work of a small, but very highly regarded porcelain manufacturer, Haas & Czjzek (H & C) of Schlaggenwald in Sudetengau (now Horni Slavkov in the Czech Republic). The manufacturer logo on the bottom of this piece was in use by H & C Schlaggenwald ONLY from 1939 to 1945.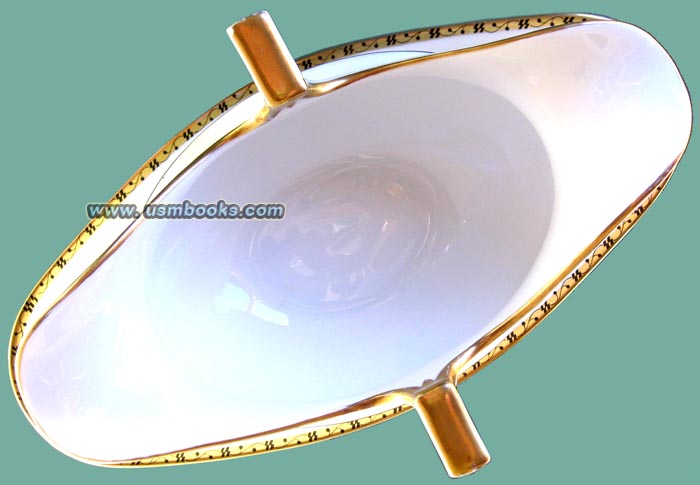 For those unfamiliar with what is now the very northwest edge of the Czech Republic where Schlaggenwald is located, it was for a long, long time a part of the province of Silesia in the country of Germany. Near the end of World War I, the country of Czechoslovakia was formed from parts of Austria, Germany, Hungary and Sub-Carpathian Russia (including that part of Silesia containing Schlaggenwald) and it remained Czech until 1938. Hitler had demanded the return of the Sudetenland, a wide strip of German-speaking Czechoslovakian land along the border with Germany, and the leaders of France, Britain and Italy agreed with him at the Four Power Conference in Munich in September 1938. The Sudetenland, including Schlaggenwald, was returned to Germany.
The entire area remained in Germany until the end of World War II. In 1945 Schlaggenwald became part of Czechoslovakia again and is still part of the Czech Republic to this day. The town is just outside the famous and beautiful spa town of Karlovy Vary (Karlsbad in German).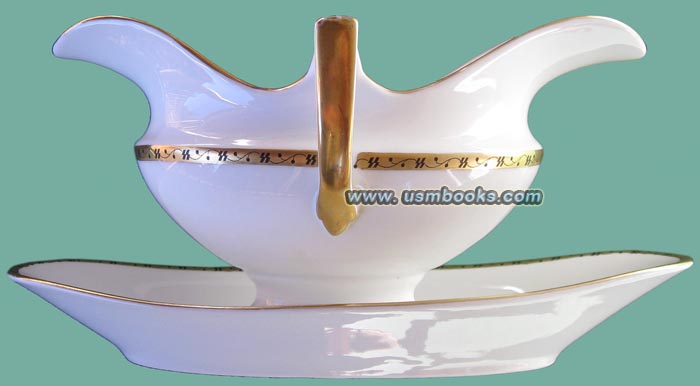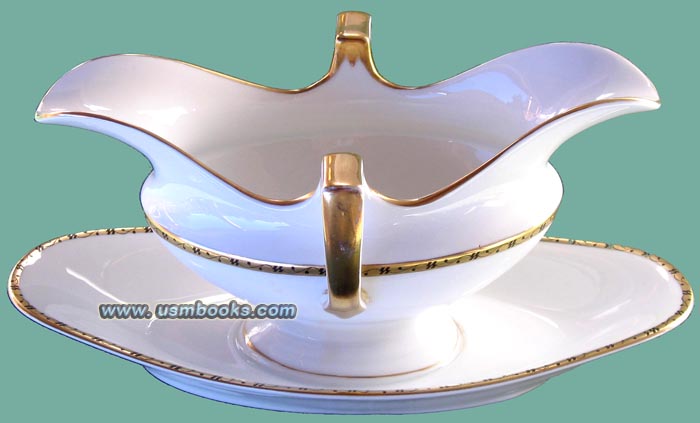 We suspect, but can not yet prove, that this china or porcelain pattern was produced by Haas & Czjzek (H & C) of Schlaggenwald for use at the very highest level of the SS in Germany and/or in Protektorat Böhmen und Mähren (as the Germans called the old Austrian provinces of Bohemia and Moravia after they occupied them on 14 March 1939). We are certain we can find a photo of the pattern gracing the table of Reichsprotektor Baron Konstantin von Neurath, Acting Reichsprotector Reinhard Heydrich or Reichsführer-SS Heinrich Himmler himself. That is a matter of research alone. If you happen to be reading this and can direct us to a photograph of this SS china pattern in use, we would greatly appreciate it.
As to the use of the German name for the town of Schlaggenwald and the English name for the country of Czechoslovakia (Tschechoslowakei in German) on the H & C Schlaggenwald logo between 1939 and 1945, it is both very well documented and perfectly explicable.
1) After Sudetenland was returned to Germany in the fall of 1938, Horni Slavkov officially got its German name Schlaggenwald back, and
2) because German exports (including porcelain) were the target of boycotts worldwide, and because Czechoslovakian porcelain had a fine reputation abroad, the factory retained the international English spelling of the name CZECHOSLOVAKIA on its logo.
This is a super rare piece of 70 year old SS material without chips, cracks or other damage. Some scuffing to the gold on the outside of the handles. A compliment to even the finest museum collection!
NAZI SS PORCELAIN GRAVY BOAT OR SAUCIERE
A SUPERB NAZI SS SAUCIÈRE OR GRAVY BOAT
ALMOST ONE FOOT LONG - PURE WHITE WITH BLACK SS RUNES ON GOLD BANDS
This USMBOOKS web page is Copyright © 2014 by USM, Inc., and the text and images on it are fully protected by international copyright law. It is therefore, illegal for anyone to take any of the material found here and use it for their own purposes without our written permission, irrespective of any excuse they may feel they have for doing so.