The images and text used on this and all other USM web pages are the copyrighted property
of USM Inc. Those images and the text may be used by others ONLY AFTER completion
of a formal international licensing agreement and payment of a licensing fee!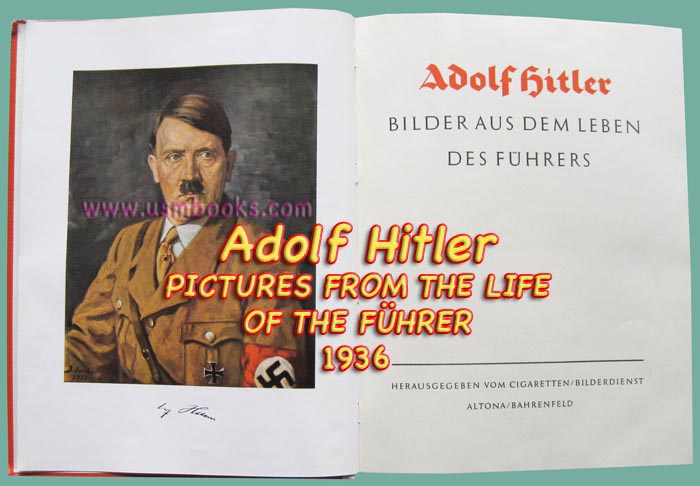 This is an excellent original example of the rare Third Reich German book ADOLF HITLER - Bilder aus dem Leben des Führers (Adolf Hitler - Pictures of the Life of the Führer) as published in 1936 by Cigaretten-Bilderdienst in Altona-Bahrenfeld, Germany.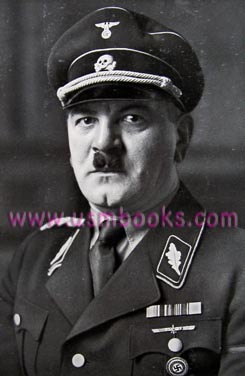 Cigaretten
-
Bilderdienst was a German tobacco company which published blank books and sets of photos for those books which they marketed as a promotion for the cigarettes and tobacco they produced. Their two best-known books were volumes 13 and 14 in their series of books, devoted to the history of the
1936 Olympic Games
in Berlin and Garmisch-Partenkirchen
.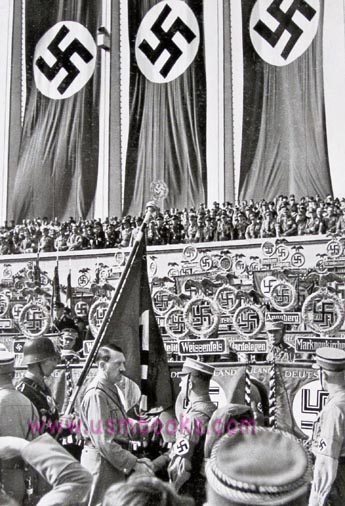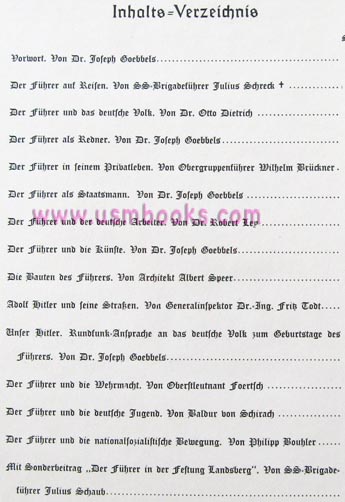 Their second best-known book is the book we offer here, ADOLF HITLER - Bilder aus dem Leben des Führers (Adolf Hitler - Pictures of the Life of the Führer) which was volume 15 in their series of blank text books in which the consumer pasted pictures he/she obtained as tobacco premiums. It is worth mentioning that we get a lot of e-mails from people trying to sell this book to us for thousands of dollars because they think it is one of only 15 published (the number 15 appears in a circle near the bottom of the spine), and they think that the pasted in photos are real photographs.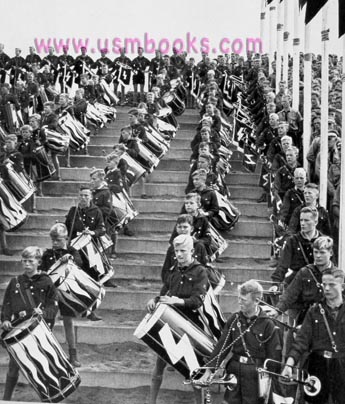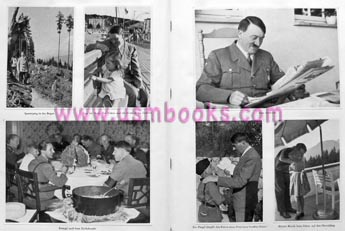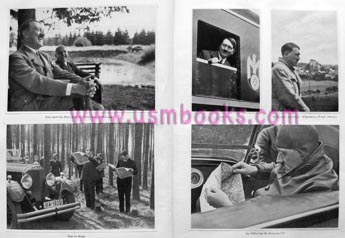 The 136 page, 9-1/2 x 12-1/4 inch red hardcover book is illustrated with dozens and dozens of glossy pictures pasted in spaces that were left in the text. This Nazi book has an excellent historical text and photo captions that cover the period of Hitler's life from his birth in Braunau am Inn through his service in World War I, his excellent watercolor paintings, the battles of the early days of the NSDAP, the success of the Nazi Party in German elections and Hitler's eventual appointment as Reichskanzler or Chancellor of Germany.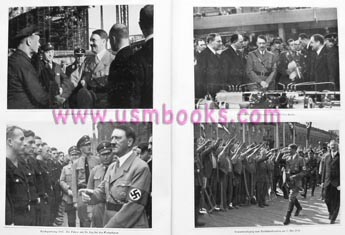 The sets of black and white and full-color photos that Cigaretten-Bilderdienst provided to be pasted into this book are not actual photographs, but very high-quality halftone prints with white borders varnished in such a way that they look very much like actual black and white glossy photographs. Most people that look at the book believe that the picture are real photographs.
The example of ADOLF HITLER - Bilder aus dem Leben des Führers we offer here is from the 4th edition (401-500,000) from 1936 and is complete with its original slip case and is in excellent, very lightly used condition. A previous owner cut the picture from the front of the original dust jacket and attached it to the front end paper, and it is nicely preserved. He did the same thing with the picture from the back of the dust jacket and attached it to the back end paper.

If you would like to have a very good example in your library, this is the one to buy.

This ADOLF HITLER book with en-portfolio translation are
**SOLD**.


USM book #304
• IF you prefer Priority Mail shipping with USPS delivery confirmation add $7.95.
• IF you wish to purchase highly recommended, but optional insurance, add $3.95.
• We will be happy to ship abroad at additional cost. Please inquire.
At no extra cost, it comes with a 8-1/2/ x 11 inch, 32 page booklet containing a competent
American-English translation
by Jack Krapf and Ray Cowdery of EVERY WORD OF TEXT AND EVERY PHOTO CAPTION in this historic book.
ADOLF HITLER - PICTURES OF THE LIFE OF THE FÜHRER
THE RARE NAZI PHOTO BOOK
ADOLF HITLER - BILDER AUS
DEM LEBEN DES FÜHRER
(ADOLF HITLER - PICTURES OF
THE LIFE OF THE FÜHRER)
WITH ITS ORIGINAL SLIPCASE
This USM Books website is Copyright © 2013 by USM, Inc., and the text and images on it are fully protected by international copyright law. It is therefore, illegal for anyone to take any of the material found here and use it for their own purposes without our written permission, irrespective of any excuse they may feel they have for doing so.