The images and text used on this and all other USM web pages are the copyrighted property
of USM Inc. Those images and the text may be used by others ONLY AFTER completion
of a formal international licensing agreement and payment of a licensing fee!
The etching shows the house in its original configuration, before the major renovations that altered it from a splendid mountain residence to a grand alpine showplace.
---
ORIGINAL NAZI BERGHOF ETCHING
A SUPERB SPECIAL PRESSING OF AN INCREDIBLE ETCHING OF HITLER'S BERGHOF

This fine Third Reich etching of
Haus Wachenfeld
is
**SOLD**.
We will be happy to ship abroad at additional cost. Please inquire.
This USM Books website is Copyright © 2010 by USM, Inc., and the text and images on it are fully protected by international copyright law. It is therefore, illegal for anyone to take any of the material found here and use it for their own purposes without our written permission, irrespective of any excuse they may feel they have for doing so.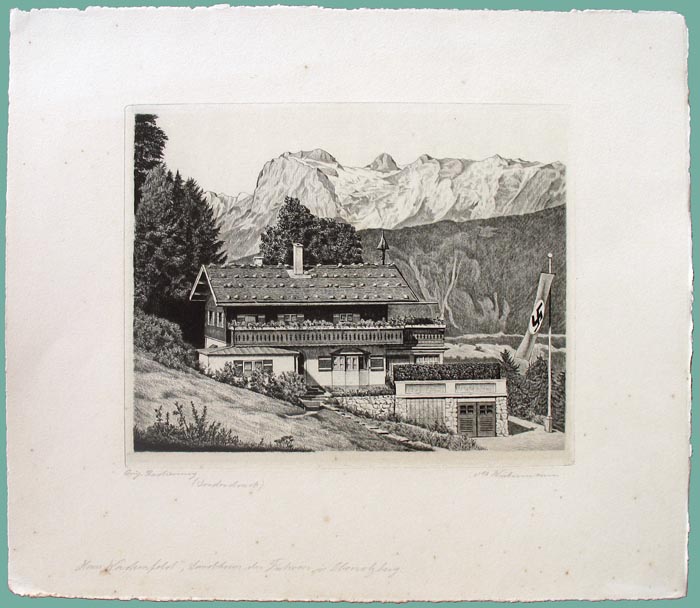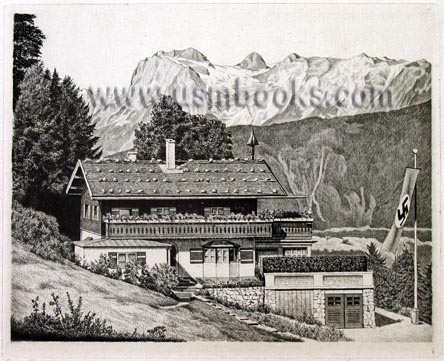 This is a wonderful original Third Reich limited edition etching of Adolf Hitler's alpine home the Berghof on at Obersalzberg high above Berchtesgaden, Germany.

The etching was pressed from an inked steel plate on high quality deckel edged art paper measuring about 13 x 15 inches (33 x 38 cm). The image area measures about 8 x 9-3/4 inches (20 x 25 cm) and depicts Haus Wachenfeld and its garage on the slope with the Alps in the background and a Nazi flag in the foreground.
Below the left corner of the etched portion is written in pencil by hand Orig. Radierung (Sonderdruck) meaning "Original Etching (Special Pressing)". Below the right corner is the pencil signature of the artist, either A. Widmann or M. Widmann. Along the bottom is the handwritten caption Haus ,,Wachenfeld'', Landhaus des Führers in Obersalzberg meaning "House Wachenfeld, the Country Home of the Führer at Obersalzberg". Obersalzberg was both the name of the mountain and the name of the hamlet in which Haus Wachenfeld was located.
This is a very beautiful, very accurate rendering of Adolf Hitler's Haus Wachenfeld with incredible details in every aspect of the architecture and the landscape. While pictures of the Berghof abound we have never had the opportunity to offer an original etching of the house in our 40 years in this business. With very minor flecking, this 70+ year old etching is in wonderful original condition, perfect for framing and display.