NAZI BERLIN ROME TOKYO MAGAZINE
The big 10-1/2 x 14-1/2 inch, 40 or so page, heavily illustrated Nazi monthly magazine called BERLIN • ROM • TOKIO was the official "Magazine for Deepening of Cultural Understanding within the Political Triangle" of Berlin, Rome and Tokyo, known in the United States during World War II as the "Axis Powers".

The beautifully laid out and splendidly printed magazine was published under the auspices of Nazi Foreign Minister Joachim von Ribbentrop by Ernst Steiniger Verlagsanstalt in Berlin, Germany during the Third Reich. The cover of each issue featured the title superimposed over a gold eagle and swastika, a coat of arms of the country of Italy and a Japanese flag on a grey-blue background. Most of the articles are written in both German and Italian and some captions are occasionally done in Japanese.
The articles often feature the cream of the Diplomatic Corps of the three countries and their activities. Articles often discuss or feature the most widely known high-tech or traditional products of the industries of the Axis countries. Quite naturally, there are articles about the progress of the war on all fronts. The magazines used color printing in both editorial and advertising when it was still uncommon in many magazines.

The heavily illustrated issue of BERLIN • ROM • TOKIO we offer for sale on this usmbooks.com web page is from July 1941 contains 48 pages.
There are articles about European Solidarity, Stalin, The German Soldier, The Problem of Eastern Europe, Italian and Japanese art, German Hospitality, European Culture Center Germany, New Books about Italy and Mussolini's Opinion about German poet Friedrich Klopstock.
This July 1941 issue of Berlin Rom Tokio magazine is offered for sale
for $48.50 delivered by Media Mail in the continental USA.
• IF you preferfaster and safer Priority Mail shipping with USPS Tracking add $7.95.
• IF you wish to purchase highly recommended, but optional insurance, add $3.45.
• We will be happy to ship abroad at additional cost. Please inquire.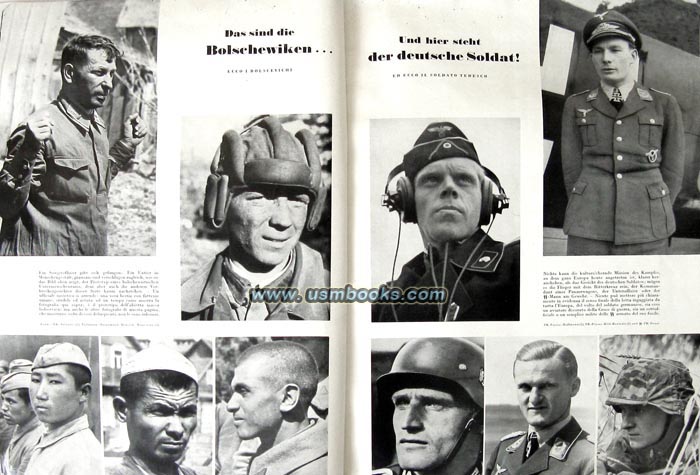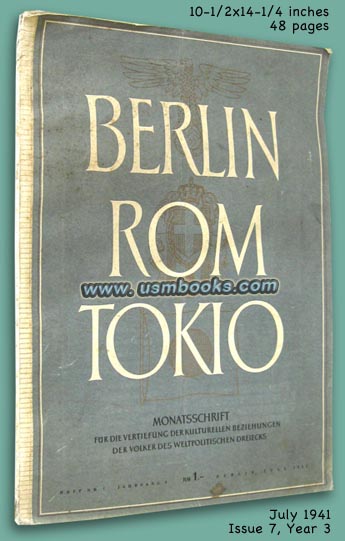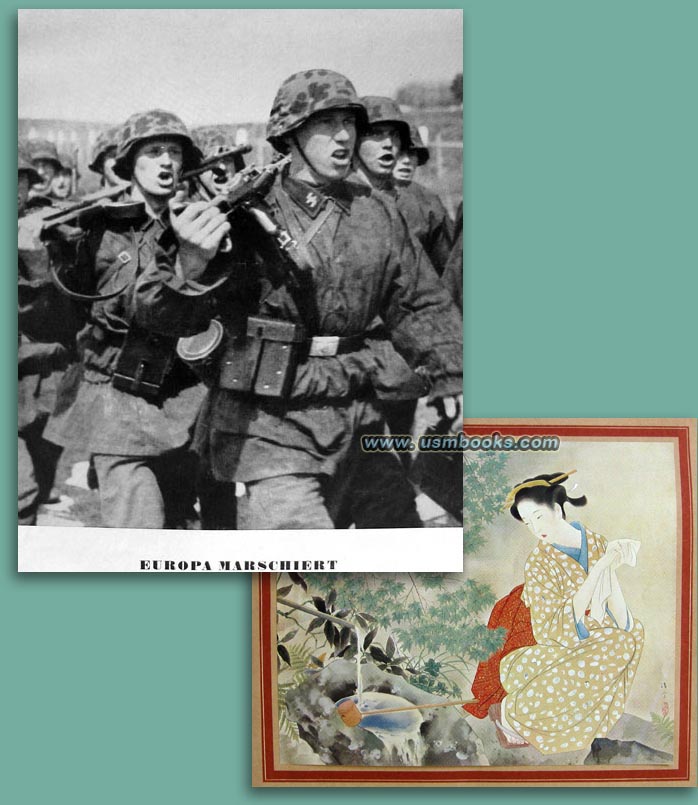 Advertising in color and black & white by Ford Motor Company in Cologne, Busch Optics, Telefunken, Bayer, construction companies, beer and cigarette producers, champagne, hair products, etc.

This 75+ year old Nazi magazine is complete and in used condition. No offensive odor.
THE RARE JULY 1941 ISSUE OF THE NAZI MAGAZINE
CALLED
BERLIN
ROM
TOKIO


The images and the entire text used on this and all other USMBOOKS web pages are the copyrighted property of USM Inc. Those images and the text may be used by others ONLY AFTER completion of a formal international licensing agreement and payment of a licensing fee! It is therefore, illegal for anyone to take any of the material found on USMBOOKS.com and use it for their own purposes without our written permission, irrespective of any excuse they may feel they have for doing so.