The images and text used on this and all other USM web pages are the copyrighted property
of USM Inc. Those images and the text may be used by others ONLY AFTER completion
of a formal international licensing agreement and payment of a licensing fee!
---
WW2 ERA GERMAN SOLDIER GAS STOVE
NAZI GUSTAV BARTHEL
DRESDEN JUWEL 33
GAS FIELD STOVE
This Nazi era
Gustav Barthel Juwel 33 soldier stove
is

**SOLD**
We will be happy to ship abroad at additional cost. Please inquire.
This USM Books website is Copyright © 2008 by USM, Inc., and the text and images on it are fully protected by international copyright law. It is therefore, illegal for anyone to take any of the material found here and use it for their own purposes without our written permission, irrespective of any excuse they may feel they have for doing so.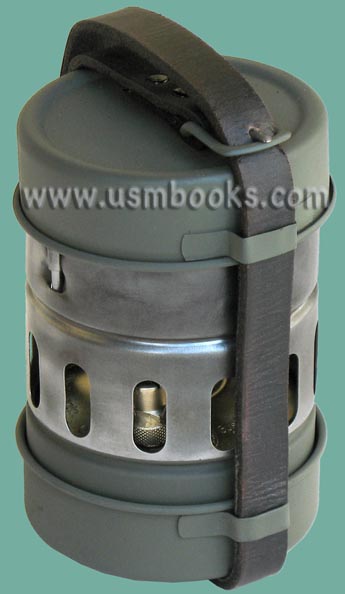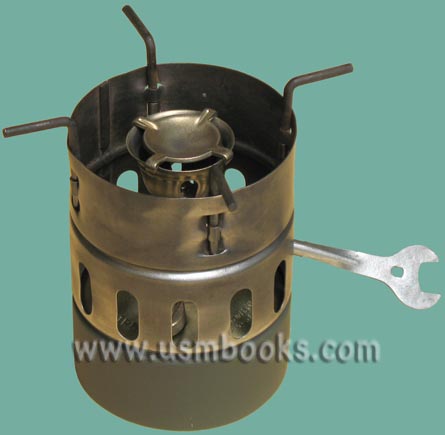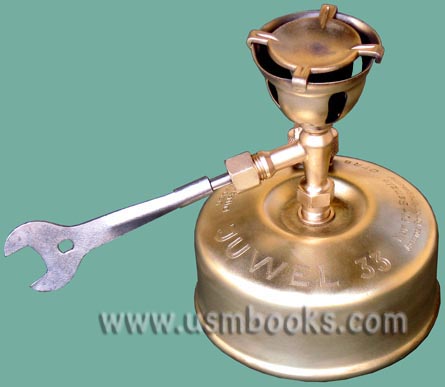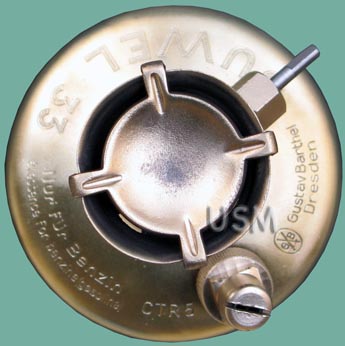 This is a beautifully made, complete JUWEL 33 German gas stove of the type used during World War II by crews of German armored vehicles. The stove comes collapsed within two very similar painted steel ends held tight with a heavy leather strap. The assembly is about 4-1/4 inches in diameter by 6-1/4 inches tall.
When the strap is unbuckled and the ends removed there is a steel cylinder with four adjustable arms on which one may place a mess kit. Inside the cylinder is a beautifully made adjustable brass gas stove marked as follows:

JUWEL 33 GB and swords in an oval logo and Gustav Barthel Dresden, nur für Benzin CTR5 and l'essence for benzine (gasoline).
The entire stove is made of brass and the wrench with which all adjustments to the stove are made is made of steel. This entire stove has been cleaned up beautifully and is in working condition. The steel ends have been repainted and the leather strap has been replaced but all the other pieces are original. Weighs about 1-1/4 pounds. Very good condition.

You can find confirmation these Gustav Barthel Juwel 33 stoves were used during World War II by German soldier on this web page: http://stovecollector.tripod.com/br_gbarthel.htm
For additional Nazi field gear items for sale on usmbooks.com, click HERE.