The images and text used on this and all other USM web pages are the copyrighted property
of USM Inc. Those images and the text may be used by others ONLY AFTER completion
of a formal international licensing agreement and payment of a licensing fee!
This USM Books website is Copyright © 2013 by USM, Inc., The text and images on it are fully protected by international copyright law. It is therefore, illegal for anyone to take any of the material found here and use it for their own purposes without our written permission, irrespective of any excuse they may feel they have for doing so.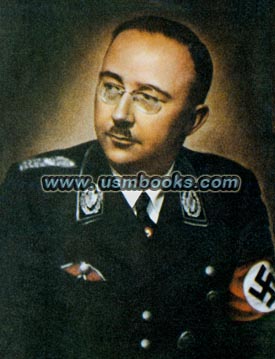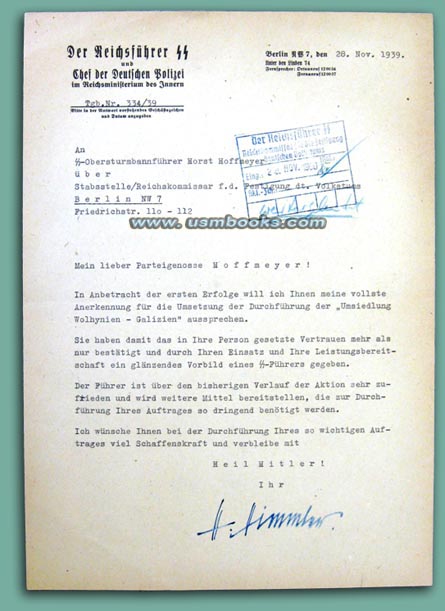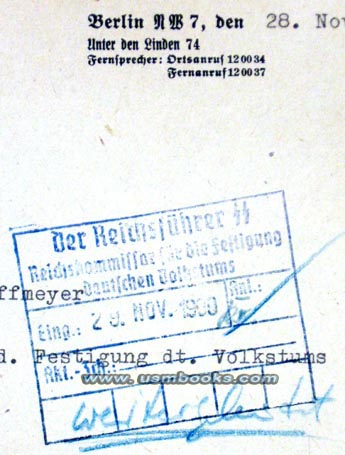 On 28 November 1939 Heinrich Himmler, Der Reichsführer-SS und Chef der deutschen Polizei im Reichsministerium des Innern sent this letter to SS-Obersturmbannführer Horst Hoffmeyer via the office of the Reichskommissar für die Festigung deutschen Volkstums (RKFDV or Reich Commissioner for the Establishment / Management of German Settlements in the East) on Friedrichstraße 110/112 in Berlin.
The recipient of the letter, Horst Hoffmeyer was born in Posen on 29 May 1903, entered the SA in 1927 and became a member of the NSDAP in 1937. He switched from the SA to the SS in 1939 and was given SS-Nr. 314.948. He was a member of the Sicherheitsdienst des Reichsführers-SS (SD). From 1938 through 1941 he was heavily involved in the resettlement and repatriation of Volksdeutsche or ethnic Germans in Eastern Europe. He was the head of the Hauptamt Volksdeutsche Mittelstelle (VoMi or Main Welfare Office for Ethnic Germans) in charge of the security of ethnic Germans in the new territories in the East.

After the invasion of the Soviet Union in 1941 he led Sonderkommando R (R for Russland) and operated in the Central Ukraine and Crimea, registering and supporting ethnic Germans in those areas with the goal of eventually moving them west to Greater Germany. Many paramilitary groups involved in the shooting of Jews and partisans were part of Hoffmeyer's Sonderkommando R.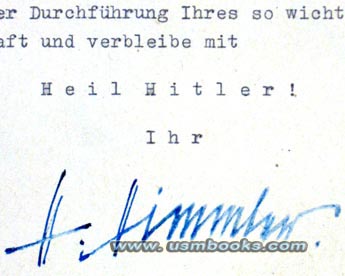 In October 1941 Hoffmeyer was promoted to SS-Oberführer and in November to SS-Brigadeführer. In 1942 he had already been named Generalmajor der Polizei. He committed suicide in captivity in the large Rumanian city of Craiova on 11 September 1944.
Himmler wrote the A4 size (8-1/4 x 11-5/8 inch) letter we offer for sale on this USMBOOKS web page on 28 November 1939 in view of the first successes Hoffmeyer achieved in dealing with ethnic Germans in Wolhynien (the northwest corner of Ukraine, where many Germans settled in the mid-1800s) and in Galizien (eastern Poland / western Ukraine). According to Himmler, Hoffmeyer had shown "with his commitment and motivation that he was a glowing example of an SS leader"!

The Reichsführer-SS also wrote that Adolf Hitler was very pleased with the progress made so far and that the Führer was willing to provide the urgently needed means to make the job to be done easier.

Himmler ends his letter with best wishes for the execution of the important mission that lay ahead. He signs off with Heil Hitler! above his signature in blue ink.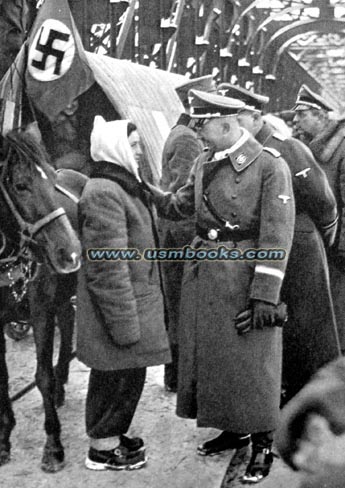 The letter was typed on the official letterhead of Der Reichsführer-SS und Chef der deutschen Polizei im Reichsministerium des Innern and the official blue receiving stamp shows it arrived and was filed at its destination on 29 November 1939.
This Third Reich correspondence between Heinrich Himmler and SS-Obersturmbannführer Horst Hoffmeyer is absolutely original and very, very rare as the repatriation of ethnic Germans was very close to Himmler's heart. The rare letter is in very good condition. A wonderful opportunity to acquire a historical, museum-grade Reichsführer-SS letter with a handwritten Himmler signature for substantially less money than less historic Himmler material offered elsewhere online.
If the subject of the SS repatriation of ethnic Germans interest you, don't
miss the rare photo book Heimkehrer, also for sale on USMBOOKS.com.
This original RFSS-Himmler letter to SS-Obersturmbannführer Hoffmeyer is
**SOLD**.

• IF you wish to purchase highly recommended, but optional insurance, add $17.95.
• We will be happy to ship abroad at additional cost. Please inquire.
ORIGINAL HEINRICH HIMMLER SIGNED LETTER NOVEMBER 1939
1939 HIMMLER
SIGNED LETTER
COMPLIMENTING
FELLOW NAZI PARTY
MEMBER AND SS
OBERSTURMBANN-
FÜHRER HORST
HOFFMEYER ON
HIS SUPERB WORK
REGARDING THE
RESETTLEMENT OF
ETHNIC GERMANS
FROM THE EAST