The images and text used on this and all other USM web pages are the copyrighted property
of USM Inc. Those images and the text may be used by others ONLY AFTER completion
of a formal international licensing agreement and payment of a licensing fee!
This original Third Reich Kodak advertising pin is
**SOLD**.

We will be happy to ship abroad at additional cost. Please inquire.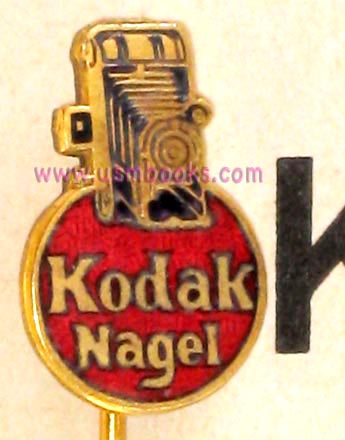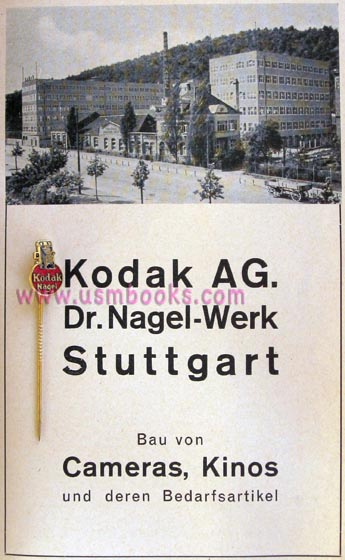 During the Third Reich and prior to the start of World War II in Europe, Kodak cameras were very popular and ubiquitous in Germany. The headquarters of Kodak AG in Germany were in Stuttgart at the Dr. Nagel-Werk where Kodak manufactured movie cameras and still cameras.
The very rare 2-3/8 inch advertising stickpin is an original Third Reich stickpin from the Kodak AG Dr. Nagel-Werk in Stuttgart and features a tiny Kodak folding camera above a red dot on which the words Kodak Nagel appear. The twisted stickpin is soldered below the identification of the pin manufacturer, M.&W. ST.

One of the reasons we know this Nazi pin was used in Germany during the Third Reich is because it came back to the United States with a young American woman who acquired it during her participation in the VI Reichstagung der Auslanddeutschen in Stuttgart in the summer of 1938.
NAZI ERA GERMAN KODAK CAMERA STICKPIN
A GENUINE
NAZI ERA
KODAK
CAMERA
ADVERTISING
STICKPIN
This USM Books website is Copyright © 2011 by USM, Inc., and the text and images on it are fully protected by international copyright law. It is therefore, illegal for anyone to take any of the material found here and use it for their own purposes without our written permission, irrespective of any excuse they may feel they have for doing so.