The images and text used on this and all other USM web pages are the copyrighted property
of USM Inc. Those images and the text may be used by others ONLY AFTER completion
of a formal international licensing agreement and payment of a licensing fee!
This USMBOOKS web page is Copyright © 2014 by USM, Inc., and the text and images on it are fully protected by international copyright law. It is therefore, illegal for anyone to take any of the material found here and use it for their own purposes without our written permission, irrespective of any excuse they may feel they have for doing so.
A SELECTION OF UNUSUAL AND RARE ORIGINAL
THIRD REICH IDENTITY DOCUMENTS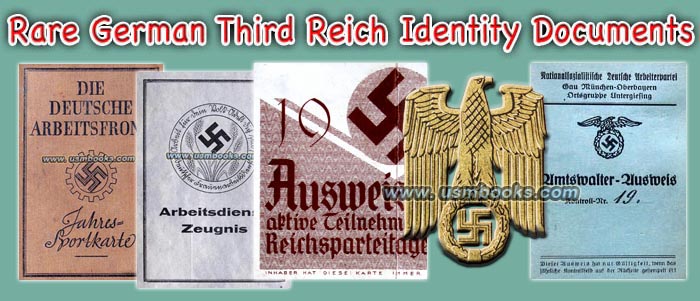 This USMBOOKS web page contains miscellaneous identity documents from Nazi Germany.
Each item is original and is explained and priced separately.
NAZI VDA MEMBERSHIP ID
He had been a member of the
VDA
since April 1937 and this was his 3-3/4 x 5-1/4 inch membership card number 4247 for the year 1939 issued on 1 April 1939. The 1940
VDA Gauverband Wien
stamp shown to the right is attached on the back of this
VDA Mitgliedskarte
.
Absolutely original to the Third Reich period in Germany and in very good used condition, exactly as shown. Offered for sale for $35.00 delivered by 1st Class Mail in the USA.
Go to Page 2 of misc. Third Reich identity documents - click HERE.
For additional original Nazi documents, click HERE.
This is an original Third Reich membership ID issued by the Volksbund für das Deutschtum im Ausland (VDA or National Association for German-ness Abroad) or to Ludwig W, a resident of the 16th District of Wien.
1938 TEMPORARY NAZI NSV ID
The NSV (Nationalsozialistische Volkswohlfahrt) was the National Socialist People's Welfare organization of the Nazi Party and that organization issued this temporary ID to Miss Anna Anita Nadaschkay on 8 February 1938. Fräulein Nadaschkay was a 40 year old bank clerk who lived in Munich and the Nazi Party Welfare Office of Gau München-Oberbayern, Ortsgruppe Gärtnerplatz issued this one-sided 105 x 149 mm Vorläufige Ausweiskarte.
Absolutely original and in very good condition, exactly as shown.
Offered for sale for
$35.00 delivered by 1st Class Mail in the USA.