The images and text used on this and all other USM web pages are the copyrighted property
of USM Inc. Those images and the text may be used by others ONLY AFTER completion
of a formal international licensing agreement and payment of a licensing fee!
---
NAZI REICHSBANK GOLD™ -
no longer available
A SPLENDID FULL-SIZE REPLICA OF A
NAZI REICHSBANK
GOLDBAR FROM THE
THIRD REICH ERA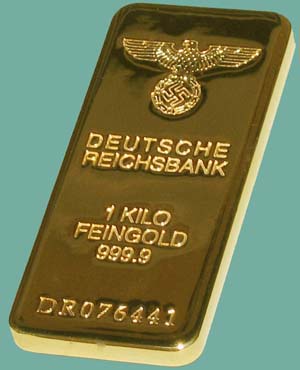 Hitler's ability to wage World War II across Europe, in parts of Africa and in the Atlantic Ocean was, as is always the case in war, entirely dependent on his ability to finance it. By acquiring the gold reserves of conquered countries with Reichsmarks that could only be spent to buy German goods and services, the Nazis took control of hundreds of millions of dollars worth of monetary gold that was convertible in "neutral" countries like France, Switzerland, Sweden, Spain, Portugal and Turkey.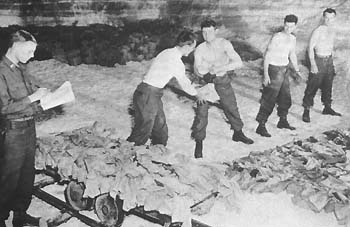 When the country of Belgium refused to sell its monetary gold, the German government confiscated it with the help of the government of France, and began resmelting it in 1942 at the Prussian State Mint in Berlin. The new gold bars that left the Nazi mint were then German monetary gold that could be used to buy French trucks, Rumanian oil, Swedish steel, Swiss tools, Spanish leather goods, Portuguese food and Turkish tobacco. Without the ability to buy from the "neutral" countries with gold, Nazi Germany could not have waged war beyond 1943.
Soldiers of General George S. Patton's US Third Army removing Reichsbank gold from the Kaiseroda potassium mine at Merkers, Bad Salzungen, Thuringia, Germany in April 1945.
Fortunately for Hitler and the Nazis, the French, Swiss, Swedes and others were perfectly content to accept any quantity of Nazi gold in exchange for exporting their natural resources and the finished goods that made them rich by war's end. They did not care to know where or how Hitler got his gold.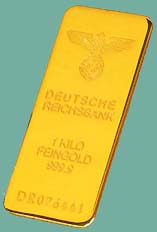 LIMITED QUANTITY AVAILABLE NOW - perfect all-metal copies of the elusive Nazi Reichsbank goldbars that are the subject of newspaper and TV reports every day around the world. These goldbars are designed to look precisely like resmelted one-kilo goldbars that might have left the Prussian State Mint in 1942 or 1943. They are produced from real metal, highly polished and plated with genuine 24k gold and sold as reminders of a time and events 60+ years ago when entire nations sacrificed their honor, and the blood of millions of victims in other lands, for the short-term profits of war.
Each 7 x 45 x 100 mm (1/4 x 1-3/4 x 4 inch) Reichsbank gold bar is carefully wrapped and shipped with a pamphlet that explains the origins and disposition of looted Nazi gold . Each replica goldbar is solid metal, weighs over 7 ounces, about 1/5 the weight of solid gold.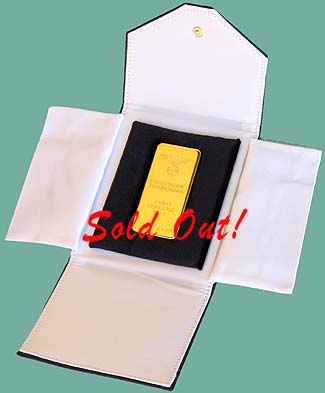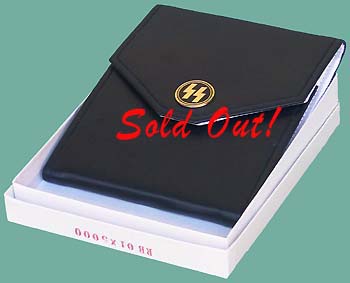 If these actual-size replica goldbars were made of solid gold, each would weigh one kilogram and be worth in excess of $15,000.00. Because these goldbars are highly accurate copies of real gold bars they are marked "REPLICA" on the backside along with other copyright and manufacturing information.
PRICE & DELIVERY
Reichsbank replica goldbars are available for $25.00 each delivered in the USA. Outside the USA add $13.95 for air mail postage. We also offer goldbars pre-packaged in a special white satin-lined leatherette case (above) measuring 5-1/2 x 6-3/4 inches. The clasp on the case is a beautifully detailed nickel plated copper and cloisonné SS medallion measuring 1 inch in diameter. The price for one goldbar in the special leatherette case is $50.00 delivered in the USA. Outside the USA add $13.95 for air mail postage.
If you are interested in historical background information
on Nazi Reichsbank gold, click HERE.
This USM Books website is Copyright © 2008 by USM, Inc., and the text and images on it are fully protected by international copyright law. It is therefore, illegal for anyone to take any of the material found here and use it for their own purposes without our written permission, irrespective of any excuse they may feel they have for doing so.