The images and text used on this and all other USM web pages are the copyrighted property
of USM Inc. Those images and the text may be used by others ONLY AFTER completion
of a formal international licensing agreement and payment of a licensing fee!
This
1936 Hans Suren aryan nudes book with original DJ is

**SOLD**.

USM book # 83
• IF you prefer Priority Mail shipping with USPS delivery confirmation add $5.95.
• IF you wish to purchase highly recommended, but optional insurance, add $2.95.
• We will be happy to ship abroad at additional cost. Please inquire.
---
This USM Books website is Copyright © 2012 by USM, Inc., and the text and images on it are fully protected by international copyright law. It is therefore, illegal for anyone to take any of the material found here and use it for their own purposes without our written permission, irrespective of any excuse they may feel they have for doing so.

HUMAN BEINGS AND SUN
THE ARYAN OLYMPIC SPIRIT -
THE HANS SUREN BESTSELLER

IMPORTANT: this is a 75+ year old book of nude human photographs. If you are offended by full-frontal or other nudity, go no farther, and do not buy it.
This heavily illustrated 5-3/4 x 8-3/8 inch, 264 page hard cover book Mensch und Sonne, Arisch-Olympischer Geist (Human Beings and Sun, Aryan Olympic Spirit) was written by Hans Suren, a pioneer in the German nudist movement. This example is in very good condition with its original dust jacket and was published by Verlag Scherl in Berlin in 1936. It is from the 116,000 - 125,000 impressions printing series.
In the introduction to his book, Hans Surén wrote that he was a National Socialist and felt it was his duty to fight for breeding of
pure blooded, aryan Germans
.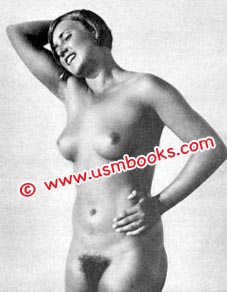 With this book he wanted to inspire the reader to strive to keep the Nordic race and German blood pure. Suren also pointed out that his book
Mensch und Sonne
was recommended by the
Leiter des Rassenpolitisches Amtes der NSDAP
(Leader of the Racial Political Department of the State Leadership of the NSDAP).
According to Suren, the goal of this book was to make Germans realize the importance of physical excercise for a healthy body and soul, and that exercise was an important part of achieving the Nordic ideal.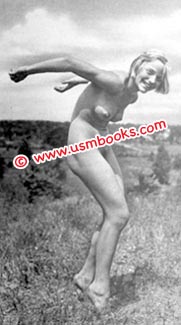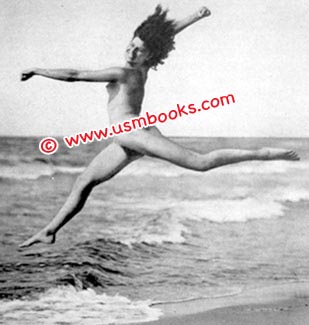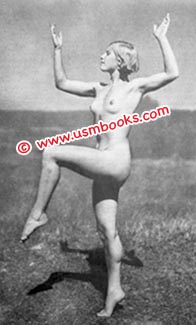 With the photos in
Mensch und Sonne
he attempted to show the reader the ideal to strive for. Suren also tried to educate National Socialists about
nudism
in harmony with nature and told readers not to be ashamed or afraid of nudity. The book contains many quotations from Adolf Hitler's book
Mein Kampf
about the subject of
racial purity
.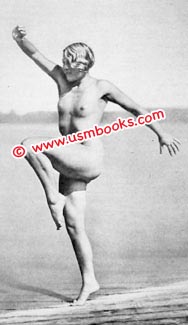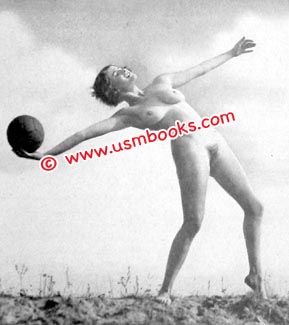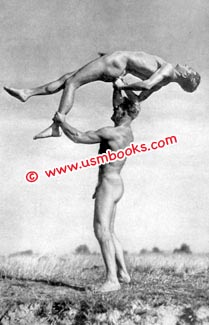 The 1936 example of Mensch und Sonne is in very good condition. It comes with its rare original Third Reich dust jacket..