The images and text used on this and all other USM web pages are the copyrighted property
of USM Inc. Those images and the text may be used by others ONLY AFTER completion
of a formal international licensing agreement and payment of a licensing fee!
NAZI
PINS, MEDALS AND BADGES - 100% ORIGINAL
The pins, badges or 'tinnies' offered for sale on this USMBOOKS web page are part of an accumulation of absolutely authentic Third Reich material we have gathered over the years. We have identified each item with a number. Please use ONLY the number when ordering! Prices include delivery by 1st Class Mail worldwide in a padded envelope on five or more individual items listed on this webpage.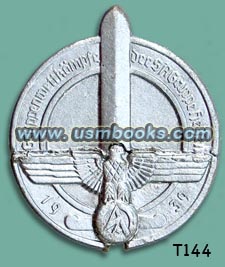 T144: 1939 Gruppenwettkämpfe der der SA Gruppe Hessen . Poor condition,
$ 5.00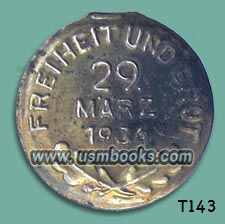 T143: 1936 FREIHEIT UND BROT NSDAP election pin. Can be clipped on lapel, stick pin itself missing
$20.00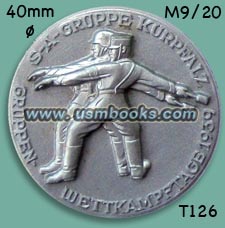 T126: SA Gruppe Kurpfalz Wettkampftage 1939, RZM M9/20 and original pin on the back (plastic)
$35.00
T142: 1 inch tall City of Düsseldorf pin with original pinback
$20.00
T110: NSDAP Kreistag Düren 1937 with pinback
$25.00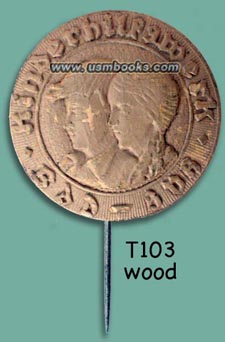 T103: Kinderhilfswerk Sudeten German pin made of wood
$25.00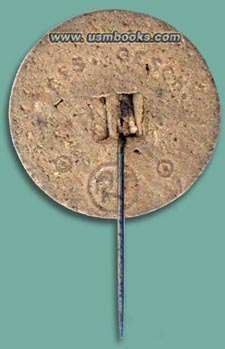 T103: shown from the back, marked Ges. Gesch. (Gesetzlich Geschützt)
T116: Honor Day for War Victims and Frontline Soldiers Bad Aachen on 12 August 1934, with pin
$25.00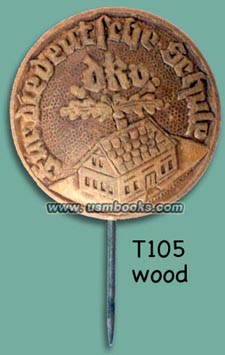 T105: DKV German Schools In Sudetenland pin made of wood
$25.00
T105: shown from the back, marked Ges. Gesch. (Gesetzlich Geschützt)
T113: Reichswettkampf tinnie SA Group Niederrhein 1935, with pin
$ SOLD $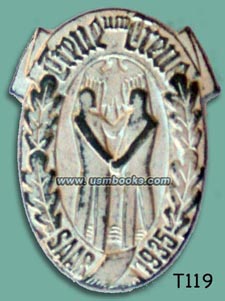 T119: Treue um Treue Saar 1935, with pin on the back
$10.00
T101: Reichsarbeitsdienst RAD stickpin
$35.00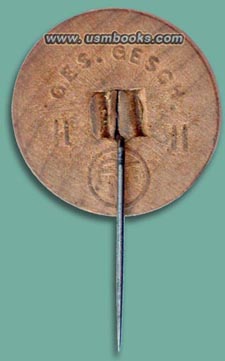 T101: shown from the back, marked Ges. Gesch. (Gesetzlich Geschützt)
T115: Nazi stickpin with swastika, rifles and Kyffhäuser Monument.
$55.00
T124: Commemorative 1935 'Day of German Seafaring' badge with pin
$20.00
T132A: metal G.I.L. Italian Fascist Youth pin with Mussolini relief
$50.00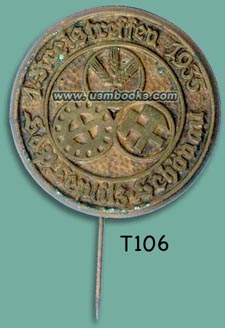 T106: 1935 SdP Kreistreffen
Teplitz Schönau stickpin
$35.00
T121: 1933 Trier 'Iron Shirt' Abzeichen with original safety pin
$25.00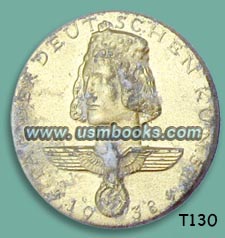 T130: 1938 Day of German Art badge in relief with pin
$20.00
T137B: May Day 1936 by W. Hörnlein of Gmünd with pin
$ 8.50
T135B: May Day 1937 by R. Sieper & Söhne of Lüdenscheid with pin
$8.50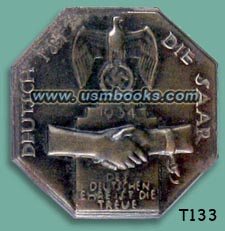 T133: 1934 The Saar is German high relief tinnie with pin
$30.00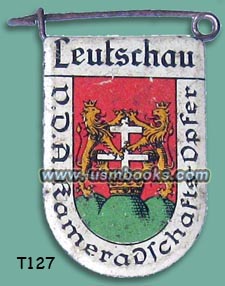 T127: VDA Leutschau metal donation pin
$15.00
T1: an original Nazi swastika flag lapel pin from the Third Reich period in Germany - NOT a modern reproduction! The flag portion is filled with red, white and black cloisonné (not paint - but colored glass fired at 1400° F and polished) and measures 17 x 17 mm. The overall height of the pin is 2-1/4 inches or 57 mm. Condition, very nice - exactly as shown in our excellent photo. A very rare pin of the period that left no question about the wearer's sympathies.

$145.00

---
This USMBOOKS web page is Copyright © 2014 by USM, Inc., and the text and images on it are fully protected by international copyright law. It is therefore, illegal for anyone to take any of the material found here and use it for their own purposes without our written permission, irrespective of any excuse they may feel they have for doing so.

! ORDER ONLY BY NUMBER PLEASE !