The images and text used on this and all other USM web pages are the copyrighted property
of USM Inc. Those images and the text may be used by others ONLY AFTER completion
of a formal international licensing agreement and payment of a licensing fee!
• Add 10% to the total of your items for shipping in the United States by 1st Class Mail.
• IF you wish to purchase optional insurance, add $2.75 to your payment.
• We will be happy to ship abroad at additional cost. Please inquire.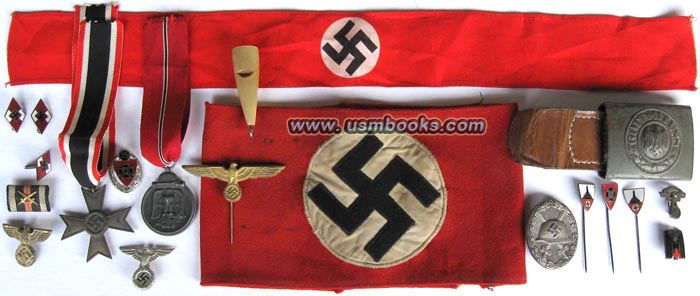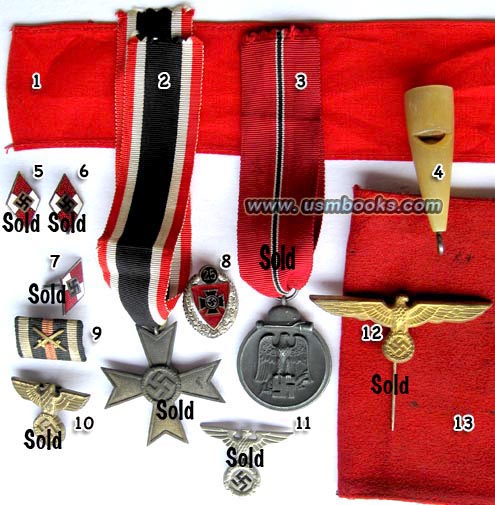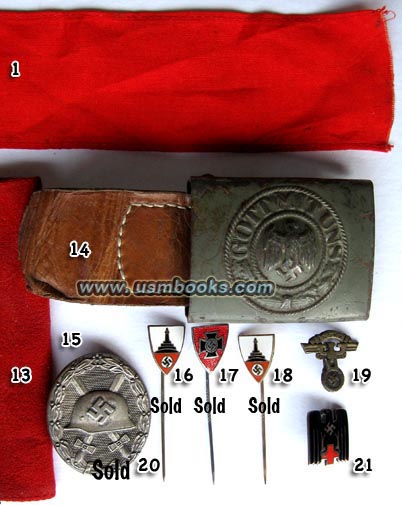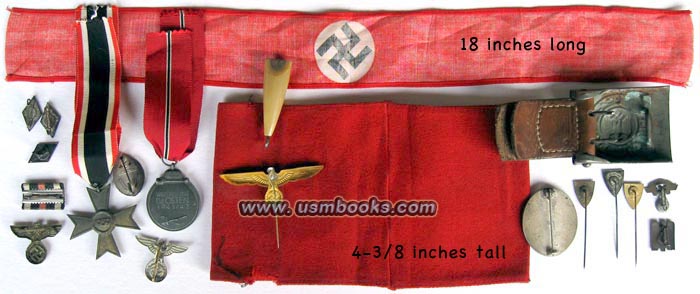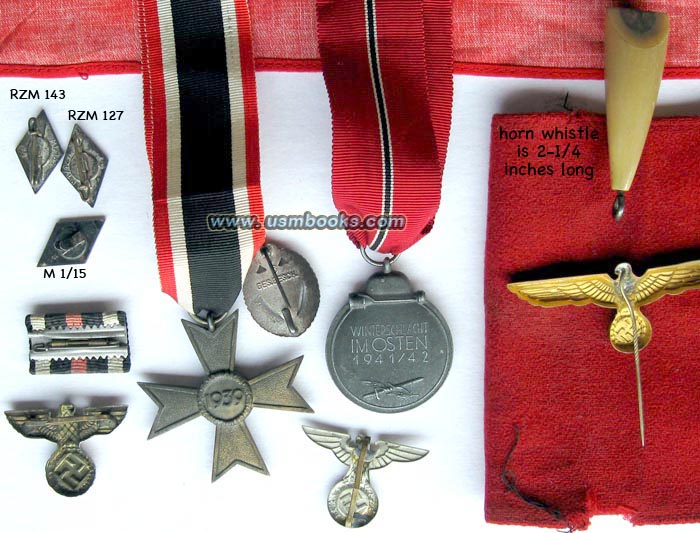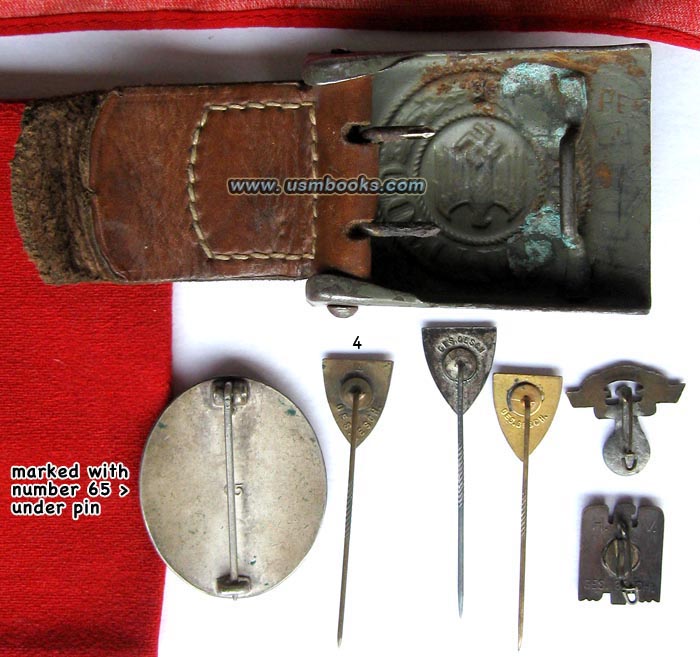 We have shown both the fronts and the backs of the items for sale so there shouldn't be many questions, and we are offering them for sale by the piece so that you don't have to buy the whole lot to get something you are after.

In most cases, the stamping on the back is obvious but we have added the RZM numbers and other numbers that appear on the backs of some of the pins for clarity.

EACH ITEM HAS A NUMBER (for example, the horn whistle is number 4, the East Front medal is number 3) SO ORDER ONLY BY NUMBER.
The photos on this USMBOOKS web page show a lot of Nazi material recently acquired from the estate of the American GI veteran that brought it back to the US at the end of World War II. As you can see the lot consists of Nazi medals, Nazi pins, Nazi badges, Nazi stickpins, a couple of Third Reich armbands, a belt buckle, etc. ALL OF THESE ITEMS ARE ABSOLUTELY 100% AUTHENTIC TO THE THIRD REICH PERIOD AND WERE MADE IN NAZI GERMANY.
1) Printed 2 inch cloth armband - unused: **SOLD**
2) War Merit Cross without Swords (Kriegsverdienstkreuz): **SOLD**
3) East Front Medal (Winterschlacht Im Osten Medaille):**SOLD**
4) 2 inch horn whistle: $55.00
5) Hitler Youth enamel membership pin RZM number 143 (Gebrüder Jäger-Gablonz an der Neisse): **SOLD**
6) Hitler Youth enamel membership pin RZM number 127 (Alfred Stübbe of Berlin): **SOLD**
7) Hitler Youth enamel knife handle medallion RZM number M1 / 15 (Ferdinand Hoffstätter of Bonn):**SOLD**
8) 25 Year Nazi War Veteran enamel badge: **SOLD**
9) Nazi ribbon bar with swords and pinback: **SOLD**
10) 1-1/2 inch gold colored Nazi Party eagle:**SOLD**
11) 1-1/2 inch SA - SS cap eagle:**SOLD**
12) 2-5/8 inch gold colored Kriegsmarine stickpin:**SOLD**

13)
SS armband, 4-1/2 inch wide, wool with white sewed-on circle and sewed-on black swastika. The dark spots on the left of the circle and swastika are from having pins pinned on to it. This armband was removed from a uniform and still has black threads that held it to the uniform attached. There is a small piece missing on the backside at the bottom (to the left of the seam):
**SOLD**
14)
Nazi Army buckle with leather tab:
**SOLD**
15)
Silver Wound Badge
(Verwundetenabzeichen)
back marked 65 (Franke & Co of Lüdenscheid):
**SOLD**
16)
2-1/4 inch Nazi Veteran
(Reichskriegerbund)
enamel stick pin (with Kyffhäuser monument) back marked 4:
**SOLD**
17)
2-1/4 inch Nazi Veteran
(Reichskriegerbund)
enamel stick pin:
**SOLD**
18)
2-1/8 inch Nazi Veteran
(Reichskriegerbund)
enamel stick pin with
Kyffhäuser Denkmal
:
**SOLD**
19)
7/8 inch NSKK enamel membership pin:
**SOLD**
21)
3/4 inch tall
Nazi German Red Cross
enamel pin:
**SOLD**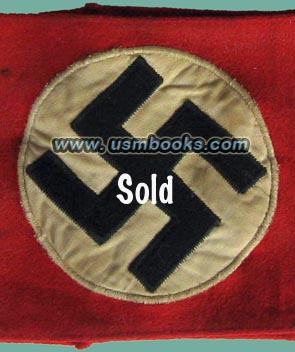 NAZI MEDALS, PINS, ARMBANDS, BUCKLES, ETC.
AN ASSORTMENT OF ORIGINAL NAZI ITEMS
FOR SALE BY THE PIECE
This USM Books website is Copyright © 2011 by USM, Inc., and the text and images on it are fully protected by international copyright law. It is therefore, illegal for anyone to take any of the material found here and use it for their own purposes without our written permission, irrespective of any excuse they may feel they have for doing so.