The images and text used on this and all other USM web pages are the copyrighted property
of USM Inc. Those images and the text may be used by others ONLY AFTER completion
of a formal international licensing agreement and payment of a licensing fee!
This is a heavily illustrated ENGLISH LANGUAGE tourist brochure that was handed out at the Chicago's World's Fair in 1933 and 1934 where the country of Germany had a special exhibit. It was produced by the Reichsbahnzentrale für den deutschen Reiseverkehr in Berlin and the German Tourist Information Office in New York.

The two-sided 24-panel brochure folds out to 17 x 14 inches and has a map of Germany, photos of landmarks in Berlin, Munich, Stuttgart, Frankfurt, Hamburg, Dresden, Cologne, Breslau, Düsseldorf, Königsberg, Heidelberg, etc. It also contains travel tips, information about German history and customs, health resorts, train transportation, lodging, entertainment, currency, air and automobile travel, and testimonials from Americans who had visited Germany.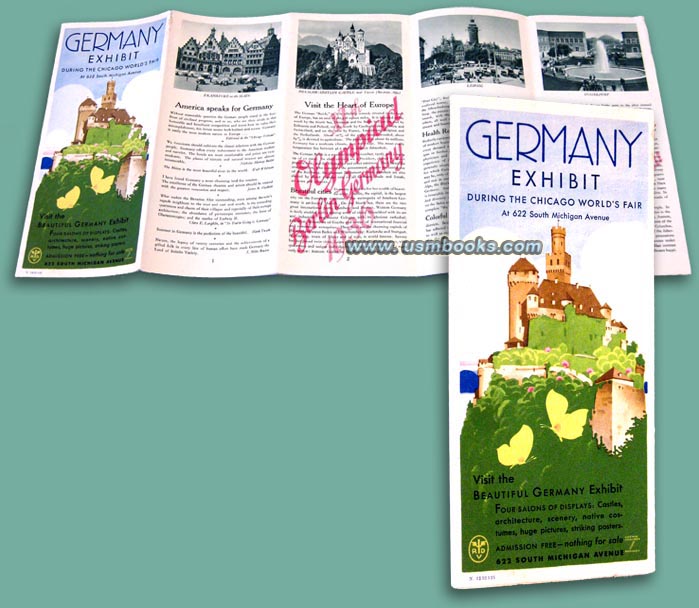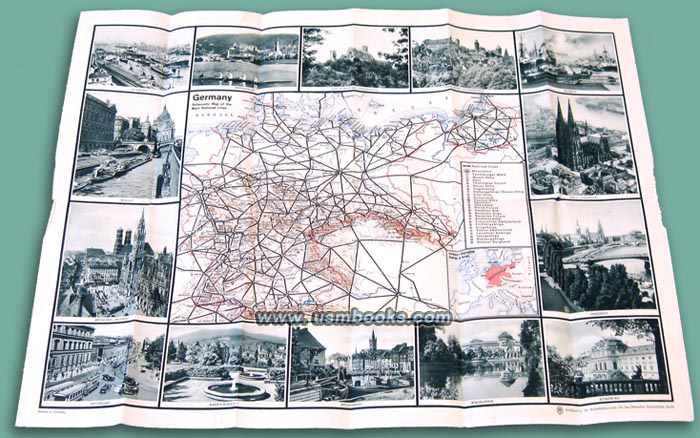 Two panels have added advertising in large red letters for the 1934 Passion Play in Oberammergau and the Olympic Games in Berlin in 1936. Rare and in very good used condition.
$ SOLD $.
Please inquire about postage to foreign countries.
BAD AUSSEE - SALZKAMMERGUT GERMANY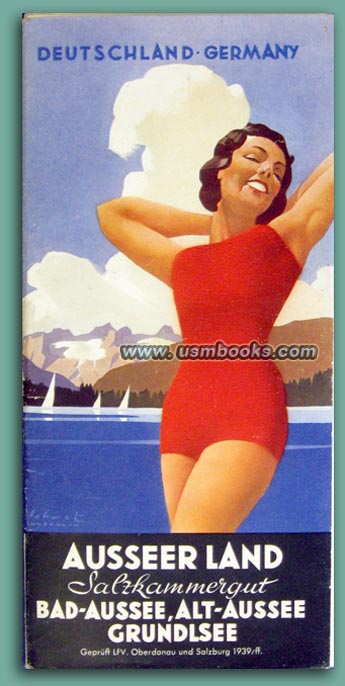 This rare Nazi German brochure dated 1939 advertised sights, things to do in winter and summer and the beauty of nature if the area around Bad Aussee in the Salzkammergut, Germany. The Salzkammergut was part of Greater Germany only from 1938 to 1945 and would now be advertised as being in Austria.
Measures 4 x 8-1/2 inches and folds out to a length of 37-1/2 inches. Contains a map of Bad Assee and the surrounding area and many photos of people hiking, skiing, boating and picturesque mountain villages.

Rare and in very good condition.
$ SOLD $.
Please inquire about postage
to foreign countries.
This is a 4 x 9 inch (folds to about 8 x 9 inches), 36 page, heavily illustrated soft cover Nazi era tourist information brochure with a color painting of part of the medieval city of Nuernberg, City of the Nazi Party Days, on the cover.

It contains tourist information of Nuremberg and the beautiful area around the city. There are photos of Passau, Walhalla at Regensburg, Wunsiedel, the Richard-Wagner-Festspiele in Bayreuth, Bamberg, the aviator monument at the Wasserkuppe, Würzburg, Wertheim, Rothenburg, Dinkelsbühl, the medieval sights in Nürnberg and even a Hitler Youth gathering at the 1936 Nazi Party Days.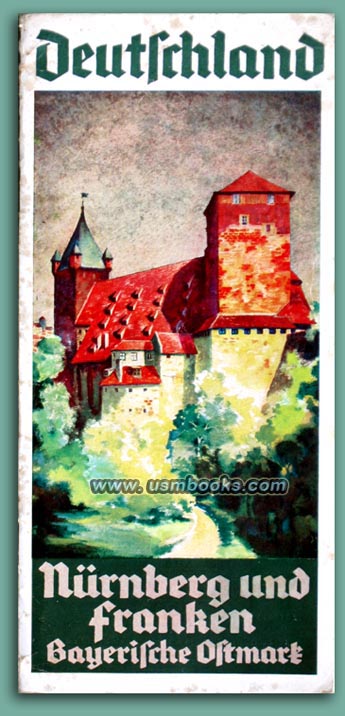 DEUTSCHLAND - NÜRNBERG UND FRANKEN, BAYERISCHE OSTMARK (Germany - Nuremberg and Franken
and the Bavarian East)
$ SOLD $.
Please inquire about postage to foreign countries.
Fully indexed and with a listing of Reichsbahnzentrale deutsches Reiseverkehr (DRV - the German Railways Tourist Traffic Organization) offices in Germany and abroad. Large multi-color fold-out map in back.

Rare 15th edition, complete and in very good used condition.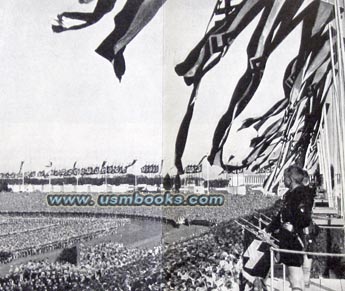 ---
A SPLENDID VARIETY OF NAZI TRAVEL LITERATURE
This USMBOOKS web page is Copyright © 2014 by USM, Inc., and the text and images on it are fully protected by international copyright law. It is therefore, illegal for anyone to take any of the material found here and use it for their own purposes without our written permission, irrespective of any excuse they may feel they have for doing so.