This nice original heavily illustrated 1937 edition NSDAP Organization book
is **SOLD**


USM book #227
• IF you prefer faster and safer Priority Mail shipping with USPS Tracking add $7.25.
• IF you wish to purchase highly recommended, but optional insurance, add $10.95.
• We will be happy to ship abroad at additional cost. Please inquire.

The images and the entire text used on this and all other USMBOOKS web pages are the copyrighted property of USM Inc. Those images and the text may be used by others ONLY AFTER completion of a formal international licensing agreement and payment of a licensing fee! It is therefore, illegal for anyone to take any of the material found on USMBOOKS.com and use it for their own purposes without our written permission, irrespective of any excuse they may feel they have for doing so.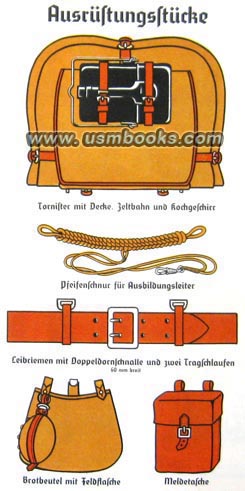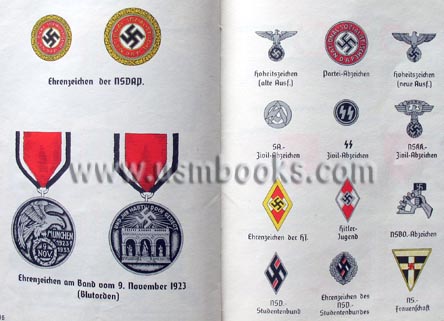 The most important book in all of Nazi Germany during the Third Reich of Adolf Hitler was not Mein Kampf, but the historic book offered here. The Organisationsbuch der NSDAP or Nazi Party Organization Book measures 6 x 8-1/2 x 1-1/4 inches thick and contains over 552 pages of profusely illustrated information about the organization, membership, political leadership, uniforms, symbols, insignia, service requirements, flags, standards, daggers, swords, and other equipment of the many paramilitary units that made up the NSDAP or Nazi Party.
The organization of every block, every cell, local group, area group and regional group of the Nazi Party throughout Germany is described and depicted in perfect detail in amazing charts and perspective illustrations.


Each paramilitary group, such as the SA, SS, HJ, NSKK, RAD, etc., is dissected and explained so that anyone who had the need could understand all the specifics of how it was organized, the uniforms its members wore, and the requirements and responsibilities of membership in it.
There are chapters related to laws that protected the Reich, protected the NSDAP, protected German Blood and Honor, the flag and even the Nazi eagle and swastika insignia. The back of the book contains the entire concept of "German Blood Mixing" (preserving the German race from 'Jewish contamination') with ten graphic charts.
The book opens with a Hitler portrait frontispiece facing the title page. There is a comprehensive index followed by a foreword by Adolf Hitler, a few words by Deputy Führer Rudolf Hess and an introduction by Reichs Organizations Leader Dr. Robert Ley. The part played by Dr. Ley in organizing the rag-tag political party Hitler dreamed up, is without parallel and is poorly understood today. The NSDAP could not have existed without Dr. Ley, and no one should attempt to discuss, write, or lecture on the subject of Nazi Germany without first gaining a good grounding with regard to Dr. Ley and this rare book. It is absolutely fundamental to any understanding of the Nazi Party or any aspect of the history of the country of Germany from 1920 to the present day.
There are over 71 full-page, full-color plates (on heavy paper) that depict virtually every conceivable Nazi flag, uniform and insignia from the Führer Standard and Blood Order to the SS Honor Ring, and from the Hitler Youth leader's dagger and sailor suits to Reichsarbeitsdienst gorgets. There are patterns for official Nazi Party office signs, special armbands for the Reichsparteitag (Reichs Party Day), the Honor Badges of various Gaue and early Reichs Party Days. It has been said that Germans in general have a tendency to "over-explain the obvious" and this book leaves no Nazi Party organization question unanswered. It perfectly fulfilled its sole purpose.

Naturally, the Organisationsbuch der NSDAP was considered extremely dangerous by the victorious Allies when they occupied Germany at the end of World War II. Copies of this book were confiscated and destroyed by the tens of thousands with the result that few originals survived the war and fewer yet survived complete and in good condition.
This original NSDAP Organization Book is from the 2nd edition of 1937 and is complete and in NICE ORIGINAL CONDITION. Minimal wear to the hard red cloth covers and silver blocking - see photo at the top of this USMBOOKS web page.

Please note, there are brownish disoloration spots on the cover and color pages. See picture directly above. The spine is tight, no odor.
All Nationalsozialistische Deutsche Arbeiterpartei (NSDAP or National Socialist German Workers Party) offices such as those of the Propaganda Leader, Press Chief, Foreign Press Chief, Racial-Political Office, Office for Genealogy, Law Office and Main Archive are fully explained.
There are chapters devoted to clarifying questions about the State Chamber of Culture (RKK or Reichskulturkammer ), Economics, Traffic, Student Organizations and the KdF Community of the German Labor Front.
NAZI PARTY ORGANIZATION BOOK 1937 SECOND EDITION - RARE
1937 EDITION OF THE
ORGANIZATIONSBUCH
DER N.S.D.A.P.
(NAZI PARTY
ORGANIZATION BOOK)