The images and text used on this and all other USM web pages are the copyrighted property
of USM Inc. Those images and the text may be used by others ONLY AFTER completion
of a formal international licensing agreement and payment of a licensing fee!
PLEASE NOTE: also for sale on USMBOOKS.com, the TWO,
FOUR and FIVE YEAR version of this Reichsautobahn book.
This wonderful Nazi freeway contruction photo book is offered for sale
for $295.00 delivered by Media Mail in the continental USA.


USM book #210
•IF you prefer Priority Mail shipping with USPS delivery confirmation add $6.50.
• IF you wish to purchase optional insurance, add $5.25.
• We will be happy to ship abroad at additional cost. Please inquire.
This is an original example of the rare 9-1/2 x 10-1/4 inch, 96 page Third Reich German linen cover hard bound book DREI JAHRE ARBEIT AN DEN STRASSEN ADOLF HITLERS or "Three Years Of Work On The Highways Of Adolf Hitler" as published for Autobahn Chief Engineer Dr.-Ing. Fritz Todt by Volk und Reich Verlag of Berlin, Germany in 1936.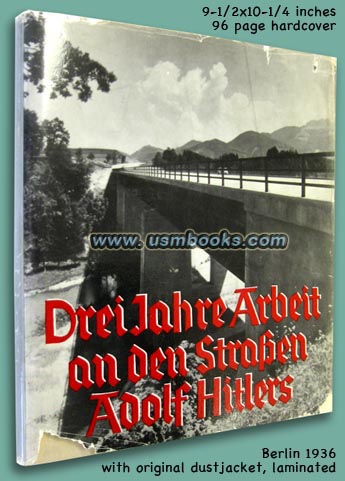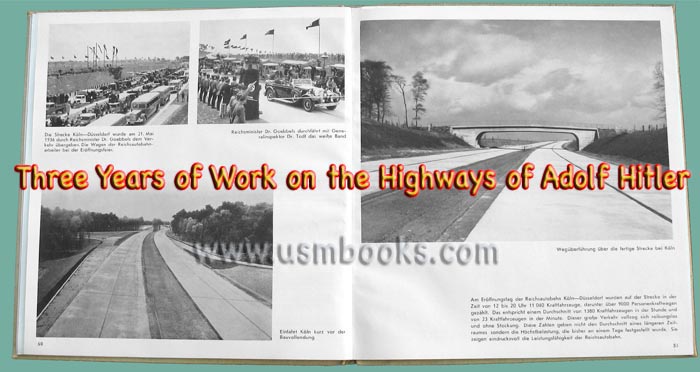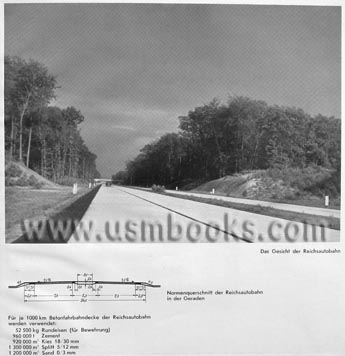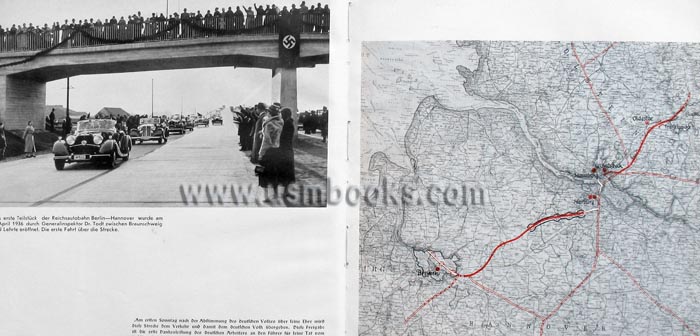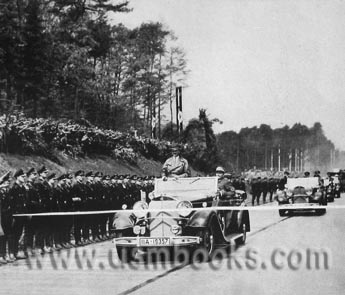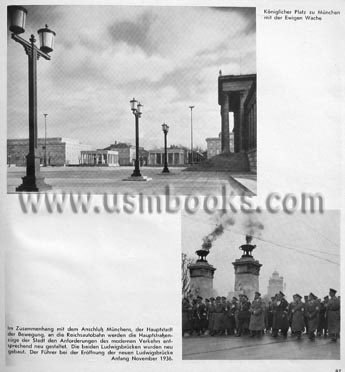 Wonderful photographs of construction techniques, official openings of newly finished stretches of the Reichsautobahn, large Mercedes-Benz cars, freeway bridges, design and planning, maps, Hermann Goering and Dr. Todt in a cabriolet at Joachimsthal north of Berlin, (below), Dr. Goebbels and Dr. Todt opening a new stretch of the freeway, etc.

This original Third Reich example of Drei Jahre Arbeit an den Strassen Adolf Hitlers is in very good, tight condition and comes with its very rare original dust jacket which has been laminated to preserve it.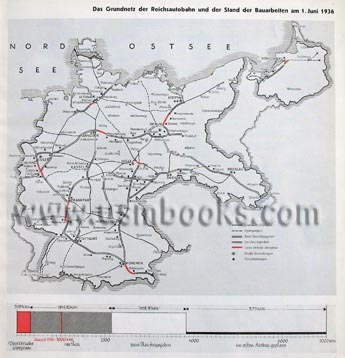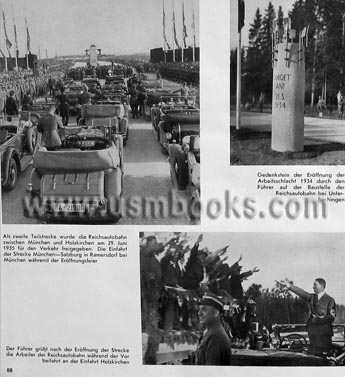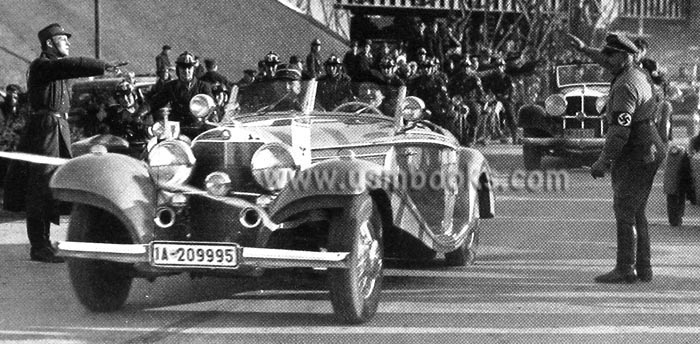 This very heavily illustrated original Third Reich book records the evolution of the world's first freeway system, from concept to reality in the third year of its construction - 1936. The text and maps explain the construction standards, traffic density and the route system of the Autobahn (completed, under construction and proposed) while perhaps 125 large full- and half-page photos record every aspect of construction from worker's housing to bridges, on- and off ramps, and rest stop facilities.
3 YEAR REICHSAUTOBAHN - GERMAN FREEWAY BOOK 1936
DREI JAHRE ARBEIT AN DEN STRASSEN ADOLF HITLERS
(THREE YEARS OF WORK
ON THE HIGHWAYS OF
ADOLF HITLER)
GERMAN FREEWAY CONSTRUCTION BOOK 1936
This USMBOOKS web page is Copyright © 2016 by USM, Inc., and the text and images on it are fully protected by international copyright law. It is therefore, illegal for anyone to take any of the material found here and use it for their own purposes without our written permission, irrespective of any excuse they may feel they have for doing so.