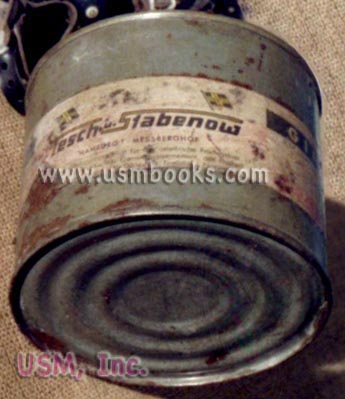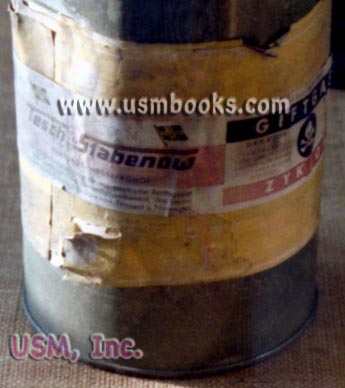 This replica Zyklon poison gas can
is for sale for $55.00 delivered by
Parcel Post in the continental USA.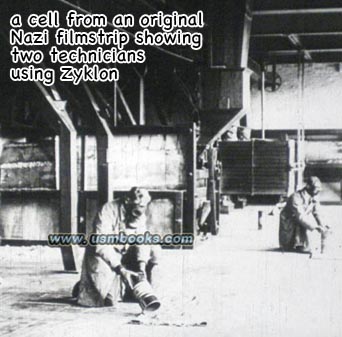 Zyklon B was of course, the Degesch company trade name for a particularly deadly form of hydrocyanic acid, a poison that has become infamous as a result of its use in Nazi concentration camps during World War II.

Canned in pellet form by Deutsche Gesellschaft für Schädlingsbekämpfung m.b.H. (Degesch) of Frankfurt am Main for their eastern and northern European agents, Tesch und Stabenow of Hamburg, the material was coated onto inert pellets which could be gasified by exposure to heat in open air and formed a very lethal vapor or poison gas.

The replica of a Zyklon can we offer here is a highly accurate copy of the actual cans in which Zyklon was originally shipped to concentration camps. This can was precisely modeled after original cans in the concentration camp museum at KL Mauthausen (Konzentrationslager Mauthausen or KLM) and every bit (100%) of the red, black, green and white label information is accurate. They were made for use in pictures and perfectly suitable for use in any museum display.
These labels are far more sophisticated than the common red and black labels on cheap white paper that were made as replicas 10-20 years ago and are commonly offered in the collector community nowadays.

The can measures 3-5/8 x 5 inches. It has no cover on the bottom and it is empty.

The replica of a Zyklon label we offer here is a perfectly executed copy of a real one, exactly like the one on the can in the pictures above, and measures 68 x 415 mm (2-5/8 x 16-1/4 inch).
This replica Zyklon poison gas can
label is offered for sale for $35.00
delivered in the USA by 1st Class Mail.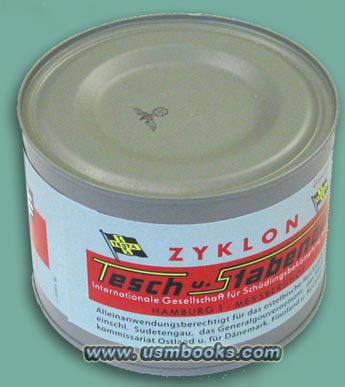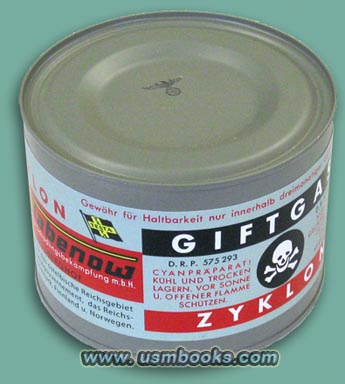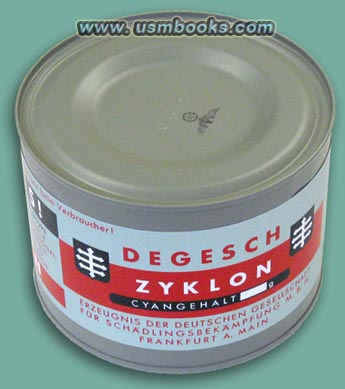 The images and the entire text used on this and all other USMBOOKS web pages are the copyrighted property of USM Inc. Those images and the text may be used by others ONLY AFTER completion of a formal international licensing agreement and payment of a licensing fee! It is therefore, illegal for anyone to take any of the material found on USMBOOKS.com and use it for their own purposes without our written permission, irrespective of any excuse they may feel they have for doing so.
ZYKLON POISON GAS - AUTHENTIC REPLICA MOVIE PROP CAN AND LABEL
PERFECT COPIES OF A ZYKLON CAN WITH THE LABEL,
OR THE LABEL ALONE