The images and text used on this and all other USM web pages are the copyrighted property
of USM Inc. Those images and the text may be used by others ONLY AFTER completion
of a formal international licensing agreement and payment of a licensing fee!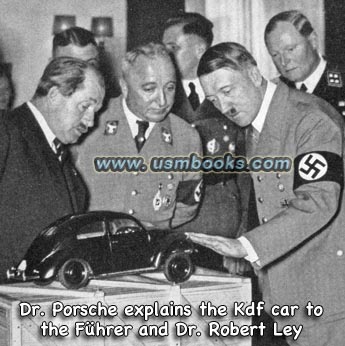 Few people know it but World War I flying veteran and close friend of Adolf Hitler,
Dr. Robert Ley
was the genius behind most of the organization of the Nazi Party. As Reichs Organization Leader from 1931 onward, he was responsible for the publication of the
Organisationsbuch der NSDAP
, which outlined how every Nazi paramilitary unit from the SS to the Hitler Youth was organized, what uniforms they wore and what their mission was. As
Reichsleiter
of the DAF he built the Ordensburg Castles at Vogelsang, Crössensee and Sonthofen. He built the towns and factories that produced everything from Volkswagens to tanks and airplanes to ships and plywood. He oversaw every laborer that worked on the
Reichsautobahn
.
The part played by Dr. Ley in organizing the rag-tag political party Hitler dreamed up, is without parallel and is poorly understood today.
The NSDAP could not have existed without Dr. Ley, and no one should attempt to discuss, write, or lecture on the subject of Nazi Germany without first gaining a good grounding with regard to Dr. Ley. It is absolutely fundamental to any understanding of the Nazi Party, or any aspect of the history of the country of Germany from 1920 to the present day. An understanding of Ley's renown outside of Germany may be gotten from the fact that at the World Congress for Leisure Time and Recreation in Hamburg, Germany in 1936 Dr. Robert Ley was elected President. This was not a German organization but an international organization of 51 independent countries.

Ley used his position in the World Congress for Leisure Time and Recreation to create an Internationale Zentralbüro Freude und Arbeit (International Headquarters of Joy and Work) which in turn published a huge 10-1/2 x 14-1/2 inch, beautiful multi-lingual magazine called Freude und Arbeit (Joy and Work - Gioia e Lavoro - Alegria y Trabajo - Joie et Travail - Vreuge en Arbeid - Bucurie si Munca - Radost a Prace).
HUGE AUGUST 1939 KdF ISSUE OF FREUDE UND ARBEIT
(JOY AND WORK)
The Freude und Arbeit magazine we offer here is the 120-page Issue 8 of Year 4, the August 1939 Kraft durch Freude (KdF) issue.
Following a full-page color portrait of an old fighter in the Fascist cause, there are articles such as Orders and Medals in the Third Reich, Italian children write to their German comrades, Zagreb, the heart of Bulgaria, the Hungarian side of Salzburg, the Hungarian state stud, bonnets and clogs in Volendam, from the roof of the Empire State Building, Belgian people, Count Cianno in Spain, scenes from diplomatic circles, Swedish profile, new books published in Germany,
Day of German Art
1939, Hitler and Dr. Ley at the
Ordensburg castles
, Dr. Goebbels looks at radios being built, television, etc.
This August 1939 issue of Freude und Arbeit contains wonderful ads for Dresdener Bank, Telefunken, Exakta camera, Steyr, and others.

Many of the captions and articles are in German and Italian. Complete and in good used condition.
This August 1939 KdF issue of Freude und Arbeit magazine
is **SOLD**.
•For Priority Mail & USPS delivery confirmation add $5.95 to the price shown above.
•IF you wish to purchase optional insurance, add $2.95 to your payment.
• We will be happy to ship abroad at additional cost. Please inquire.
NAZI INTERNATIONAL MAGAZINE FREUDE UND ARBEIT >>PAGE 1<<
This USM Books website is Copyright © 2012 by USM, Inc., and the text and images on it are fully protected by international copyright law. It is therefore, illegal for anyone to take any of the material found here and use it for their own purposes without our written permission, irrespective of any excuse they may feel they have for doing so.