The images and text used on this and all other USM web pages are the copyrighted property
of USM Inc. Those images and the text may be used by others ONLY AFTER completion
of a formal international licensing agreement and payment of a licensing fee!
---
FÜHRER SPEECH IN THE BÜRGERBRÄUKELLER 1939
THE SPEECH THAT NEARLY
COST HITLER HIS LIFE - AT
THE BÜRGERBRÄU BEER
HALL IN MUNICH ON
8 NOVEMBER 1939
Der Führer Spricht
(The Führer Speaks) is
**SOLD**.
We will be happy to ship abroad at additional cost. Please inquire.
This USM Books website is Copyright © 2010 by USM, Inc., and the text and images on it are fully protected by international copyright law. It is therefore, illegal for anyone to take any of the material found here and use it for their own purposes without our written permission, irrespective of any excuse they may feel they have for doing so.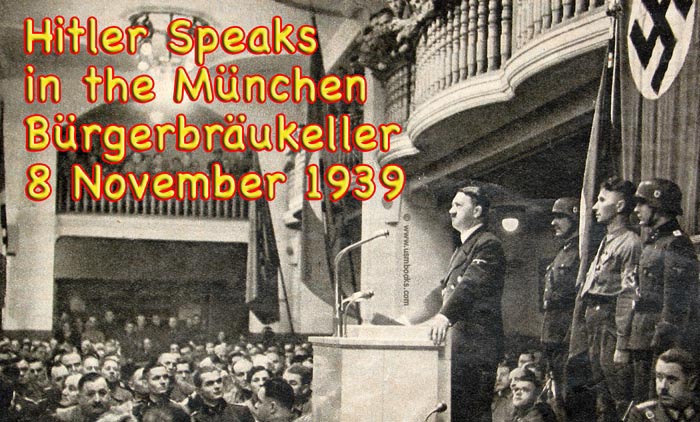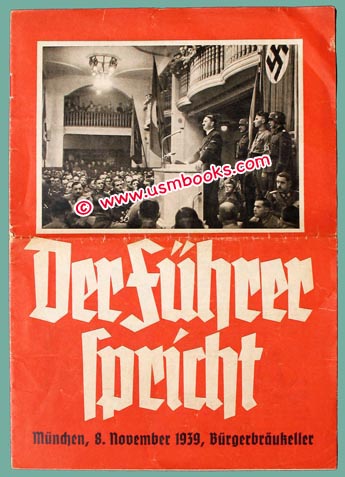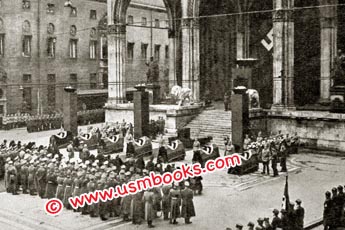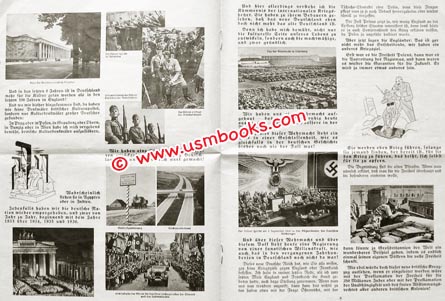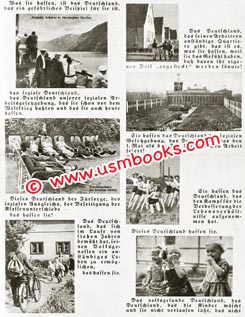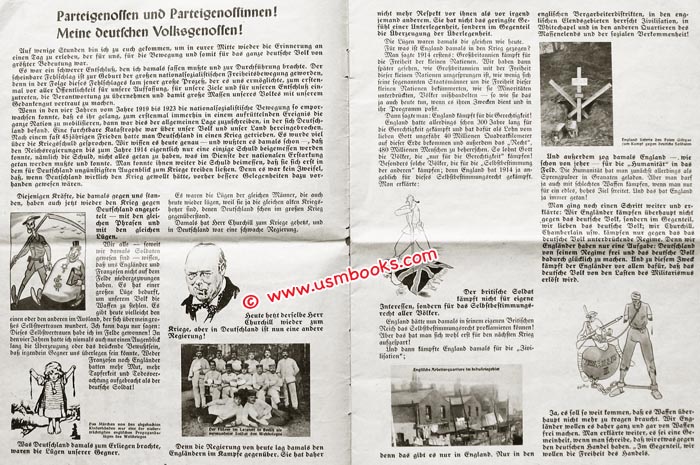 While the speech given by Nazi Party Führer and German Chancellor Adolf Hitler in the Bürgerbräukeller in München (Munich) on 8 November 1939 is now chiefly remembered because of the bomb that went off 13 minutes after Hitler left the building, it was a very memorable speech. (Incidentally, the bomb placed in the Bürgerbräukeller was in the column directly behind and below the swastika in the Nazi flag in the picture on the cover of this rare brochure. Had it gone off while Hitler was speaking, it would have killed Grimmiger, Hitler and the two other SS guards and would have destroyed the
Blutfahne
or Blood Flag.)
This very rare 8-1/4 x 11-3/4 inch, 16 page very heavily illustrated booklet called
Der Führer Spricht
(The Führer Speaks) was published by the Zentralverlag der NSDAP Franz Eher Nachfolger.
Speaking to a packed house of NSDAP members and loyal patriotic Germans in one of the most sacred places of the Nazis, he spoke of the hatred for Germany demonstrated by Winston Churchill and other British leaders and how social programs at home were being disregarded while Britain meddled in the affairs of other countries.
Hitler spoke of the implications of the Treaties of Versailles and St. Germain and the need for someone to put the British in their place. He spoke eloquently about the social and economic differences between Nazi Germany and Britain, how the English resented those differences and could never peacefully accept being eclipsed by Nazi Germany. He then remembered the martyrs of the November 1923
Putsch
who began their long march to the Feldherrnhalle in the very beer hall in which he was speaking. He assured those assembled and those listening on the radio that these martyrs had not died in vain.
The brochure was folded once but is complete and in very good condition.