The images and text used on this and all other USM web pages are the copyrighted property
of USM Inc. Those images and the text may be used by others ONLY AFTER completion
of a formal international licensing agreement and payment of a licensing fee!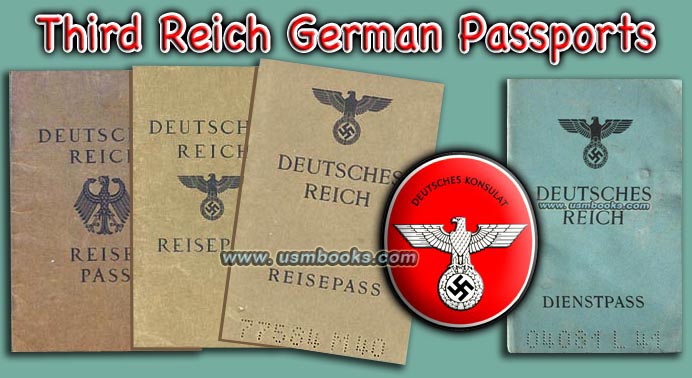 There are four versions of standard
Reisepässe
or passports dating back to the Third Reich of Adolf Hitler. The earliest type (Type 1) had a Weimar eagle on the front cover but Nazi eagle and swastika stamps on the inside. By May of 1936, the standard
Reisepass
(Type 2) had the Weimar eagle replaced with a
Hoheitszeichen
(eagle and swastika) between the words
Deutsches Reich
and
Reisepass
.
Later, (Type 3) the Hoheitszeichen had been moved to the top of the front cover and there was a passport serial number stamped all the way through the front and back covers and the internal 32 pages. Type 4 (not shown) did away with the perforated numbers and had the passport number printed at the bottom of the front cover and on each subsequent page making it much more difficult to counterfeit. They were all identical in that each page had a alteration disclosing background, they all contained the same data, and all were issued by the Polizeipräsident or Head of the Police
.
ORIGINAL BLANK (UNISSUED) NAZI REISEPASS
OR TRAVEL PASSPORT
This is an absolutely original UNUSED 4-3/8 x 6-1/2 inch, 32-page model 1940 Deutsches Reich Reisepass or German National Passport. The booklet consists of an olive green cover bearing the words DEUTSCHES REICH REISEPASS beneath a large eagle and swastika Hoheitszeichen or National Emblem.

Stamped through the bottom of the cover and all 32 internal pages is the number of the passport 05459 M40. The 32 internal pages are all printed with a border on a red and green alteration disclosing background, and inserted in the book is the 1939 dated Merkblatt or Information Sheet for travel in foreign countries (the last line of which is "Remember that you are a German!").

This Nazi passport is unissued and in excellent condition just as it came from the Reichsdruckerei (Government Printing Office, a part of the Post Office System) in Berlin. Very, very rare!
This very rare UNUSED Nazi passport is **SOLD**.

• IF you prefer Priority Mail shipping with USPS delivery confirmation add $5.75.
• IF you wish to purchase highly recommended, but optional insurance, add $7.05.
• We will be happy to ship abroad at additional cost. Please inquire.
NAZI PASSPORTS - ALL ORIGINAL TO THE THIRD REICH
NAZI ERA PASSPORTS FOR CIVILIAN TRAVEL ABROAD
This USM Books website is Copyright © 2014 by USM, Inc., and the text and images on it are fully protected by international copyright law. It is therefore, illegal for anyone to take any of the material found here and use it for their own purposes without our written permission, irrespective of any excuse they may feel they have for doing so.