The images and text used on this and all other USM web pages are the copyrighted property
of USM Inc. Those images and the text may be used by others ONLY AFTER completion
of a formal international licensing agreement and payment of a licensing fee!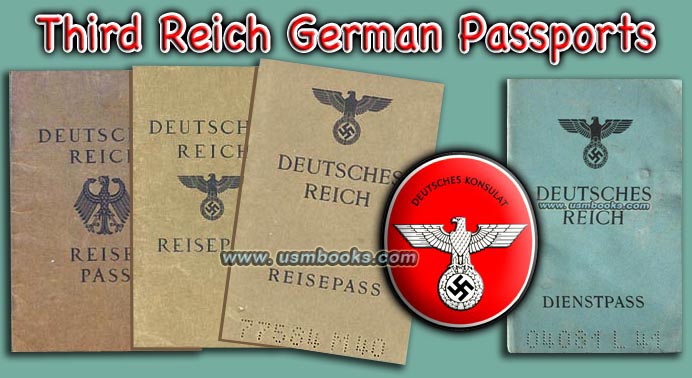 There are four versions of standard
Reisepässe
or passports dating back to the Third Reich of Adolf Hitler. The earliest type (Type 1) had a Weimar eagle on the front cover but Nazi eagle and swastika stamps on the inside. By May of 1936, the standard
Reisepass
(Type 2) had the Weimar eagle replaced with a
Hoheitszeichen
(eagle and swastika) between the words
Deutsches Reich
and
Reisepass
.
Later, (Type 3) the Hoheitszeichen had been moved to the top of the front cover and there was a passport serial number stamped all the way through the front and back covers and the internal 32 pages. Type 4 (not shown) did away with the perforated numbers and had the passport number printed at the bottom of the front cover and on each subsequent page making it much more difficult to counterfeit. They were all identical in that each page had a alteration disclosing background, they all contained the same data, and all were issued by the Polizeipräsident or Head of the Police
.
NAZI PASSPORT OF A FEMALE POSTAL WORKER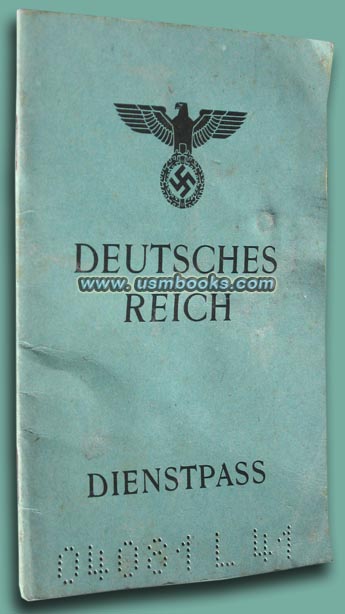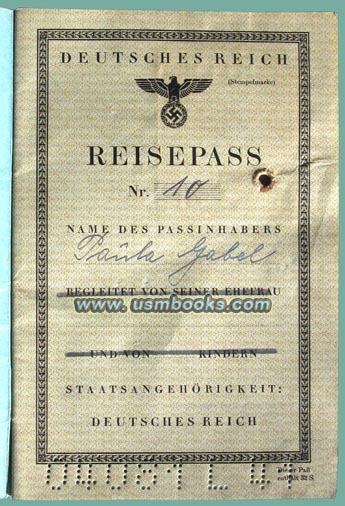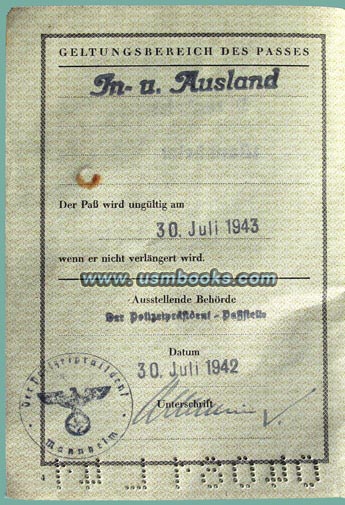 This Deutsches Reich Dienstpass or German State priority passport for a government worker who might have to travel on official business, was issued to Paula Gabel of Mannheim, a Postal Assistant.
The Passport Department of the Mannheim Police issued this Nazi passport Number 10 on 30 July 1942 and it was valid until 30 July 1943. It has all the proper stamps, but if Ms. Gabel traveled it was not recorded in her passport (possibly for security reasons).
Paula Gabel was born in Mannheim on 5 June 1902. In this passport the 40 year old single woman is described as slim with brown hair and eyes.
It will be obvious to Nazi era document collectors, and especially Third Reich passport collectors, that this Dienstpass has a different cover than regular Nazi era passports, but the interior pages are exactly the same. This example is 100% original to the Third Reich period and is in very good condition.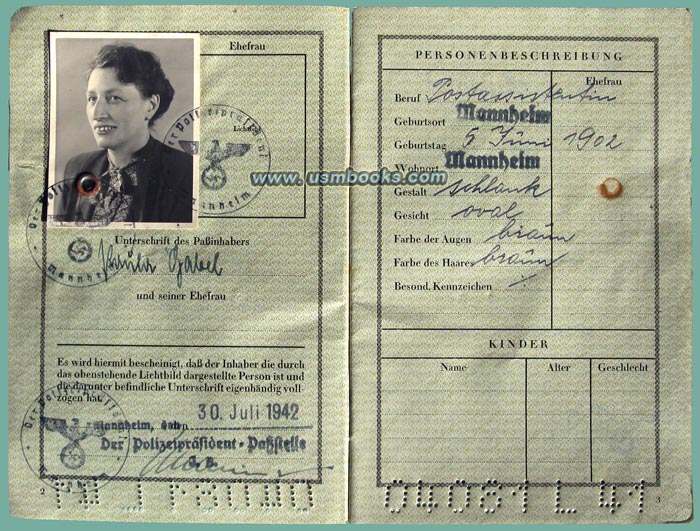 **SOLD**.
DOCUMENT GROUPING OF A POSTAL WORKER'S WIDOW
This Nazi document grouping consists of three pieces that all belonged to the same woman, Rosamunde Suchomel, born 9 February 1883, a Beamtenwitwe or widow of a government bureaucrat. Her Deutches Reich Reisepass was issued by the Head of Police of Wien on 5 May 1939 and contains border crossing and currency exchange stamps from May 1939. The rare 4-panel Nazi Foreign Mail ID shown right was issued by the Head of Police of Wien to Mrs. Suchomel on 12 September 1944 so she could send letters and packages abroad. The back panel has instructions on how to use this Kontrollkarte für den Auslandsbriefverkehr in seven languages. Rosamunde Suchomel needed the document shown above in the middle to collect her widow's pension from the Deutsche Reichspost at the post office.
**SOLD**.
The original Nazi passport shown left belonged to a pretty young lady called Gertrude Gatterwe, born on 25 March 1916 in Vienna. When this passport number 1143 was issued on 26 August 1939 she lived in Deutsche Wagram and listed her occupation as Haushalt or Housekeeping.

While this passport was valid for five years, Miss Gatterwe only used it for one trip to Italy just a few days after it was issued. Very good used condition.
**SOLD**
NAZI PASSPORT OF A PRETTY YOUNG WOMAN
NAZI PASSPORTS - ALL ORIGINAL TO THE THIRD REICH
NAZI ERA PASSPORTS FOR CIVILIAN TRAVEL ABROAD
This USM Books website is Copyright © 2011 by USM, Inc., and the text and images on it are fully protected by international copyright law. It is therefore, illegal for anyone to take any of the material found here and use it for their own purposes without our written permission, irrespective of any excuse they may feel they have for doing so.