The images and text used on this and all other USM web pages are the copyrighted property
of USM Inc. Those images and the text may be used by others ONLY AFTER completion
of a formal international licensing agreement and payment of a licensing fee!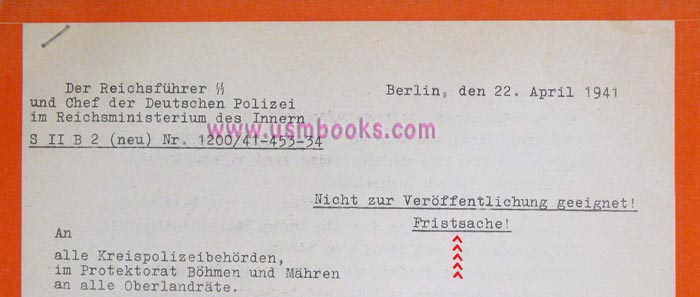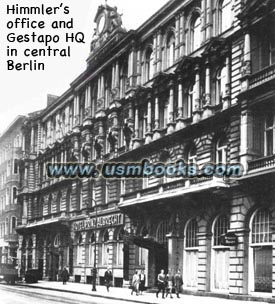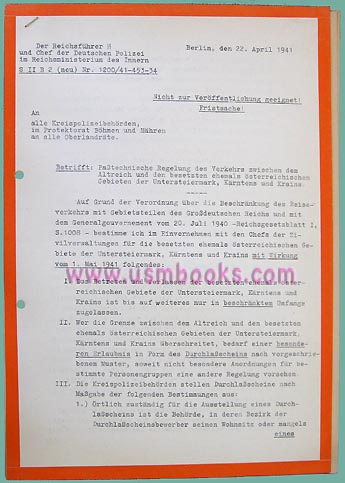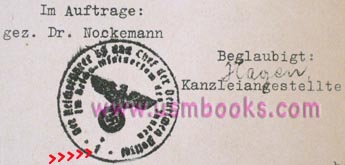 The five-page 8-1/4 x 11-5/8 inch letter we offer here was a highly confidential directive from the office of Der Reichsführer-SS und Chef der Deutschen Polizei im Reichsministerium des Innern, Heinrich Himmler.
This confidential 1941 Urgent Directive from Heinrich Himmler's office is
**SOLD**


• IF you prefer Priority Mail shipping with USPS delivery confirmation add $5.95.
• IF you wish to purchase highly recommended, but optional insurance, add $4.95.
• We will be happy to ship abroad at additional cost. Please inquire.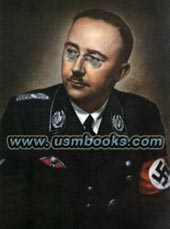 Local police officials had to check with the Nazi Staatspolizei to see if applicants had some sort of (criminal) record and if they did not they could only issue a Durchlaßschein if the applicants had the following ID to prove their identity: a passport, Kennkarte, Kinderausweis or another official Nazi photo ID. Foreigners living in Untersteiermark, Kärnten and Krains had to produce a passport or similar official identity document in order to receive a Durchlaßschein. Police officials could only issue a Durchlaßschein or Transit Permit if travel was absolutely essential and reasons had to be given in writing (business trip, purchase of inventory at supplier X, with address, dates of travel, etc.).


Underlined at the top of this red-bordered A4 size correspondence it is mentioned that the information is
strictly confidential
(Not To Be Seen By The Public !) and
time sensitive
. The new rules and limitations regarding the issue of Nazi
Durchlaßschein
were effective 1 May 1941. A
Durchlaßschein
(Transit or Travel permit) was issued by police to people wanting to travel to Nazi Germany from an area that had recently been added/annexed to Hitler's
Großdeutschland
. In this case citizens of the former Austrian provinces of Untersteiermark, Kärnten and Krains (part of Greater Germany since the
Anschluß
of April 1938
) still needed to obtain special travel permits, as did all foreigners living in those areas.
From this detailed information it is clear that the government of Nazi Germany wanted to keep a close eye on who was entering and leaving Greater Germany, and wanted to control travel in general.
A synopsis of the content of this letter is that travel between Untersteiermark, Kärnten and Krains to the
Altreich
(literally the Old German State) was allowed in limited cases, and potential travelers had to apply for a
Durchlassschein
at their local police office. This travel document could only be issued to people who were free to travel and it is clearly states that
JEWS WERE NOT FREE TO TRAVEL!
It was sent to all Nazi District Police personnel in the Protektorat Böhmen und Mähren (the Nazi Protectorate of Bohemia and Moravia, now the Czech Republic) on 22 April 1941 and informed the Kreispolizeibehörden of new rules, regulations and limitations for travel to and from Adolf Hitler's Greater Germany from the former Austrian areas of Untersteiermark (now part of Slovenia), Kärnten (Carinthia) and Krains (now part of Slovenia).


Dr. Nockemann at the Der Reichsführer-SS und Chef der Deutschen Polizei im Reichsministerium des Innern was in charge of this matter and Kanzlei employee Hagen witnessed the signing before it was mailed out. This incredibly rare 5-page document bears the 35 mm eagle and swastika stamp of Der Reichsführer-SS und Chef der deutschen Polizei im Reichsministerium des Innern 1 (Heinrich Himmler's office) and is absolutely original to the Third Reich period in Germany.

There are instructions about the color of ink police officials were to use on these Durchlaßscheine to mark the destination of the travel and the number of times it could be used. A Durchlaßschein was valid for one month only and could not be extended. A new one had to be applied for. While local police officials had to issue Durchlaßscheine free of charge, they had to keep detailed lists of who they issued these travel papers to! The information they were required to record was the number of the Durchlaßschein, the name and address of the applicant, profession, country of citizenship, the kind of ID they showed to procure the Durchlaßschein, their travel destination, duration of and reason for travel.

This Directive ends with the admonition that keeping track (the word "controlling" is used) of the movement of citizens was very important, and that Kreispolizeibehörden therefor had to pay great attention to detail when it came to issuing these official Nazi travel permits.
CONFIDENTIAL REICHSFÜHRER-SS NAZI DIRECTIVE DATED 22 APRIL 1941
A VERY HISTORIC HIGHLY CONFIDENTIAL AND TIME SENSITIVE NAZI DIRECTIVE DATED 22 APRIL 1941 FROM THE REICHSFÜHRER-SS UND CHEF DER DEUTSCHEN POLIZEI IM REICHSMINISTERIUM DES INNERN
(HEINRICH HIMMLER) IN BERLIN REGARDING TRAVEL RESTRICTIONS FOR SOME GERMAN CITIZENS & JEWS
This USM Books website is Copyright © 2012 by USM, Inc., and the text and images on it are fully protected by international copyright law. It is therefore, illegal for anyone to take any of the material found here and use it for their own purposes without our written permission, irrespective of any excuse they may feel they have for doing so.