The images and text used on this and all other USM web pages are the copyrighted property
of USM Inc. Those images and the text may be used by others ONLY AFTER completion
of a formal international licensing agreement and payment of a licensing fee!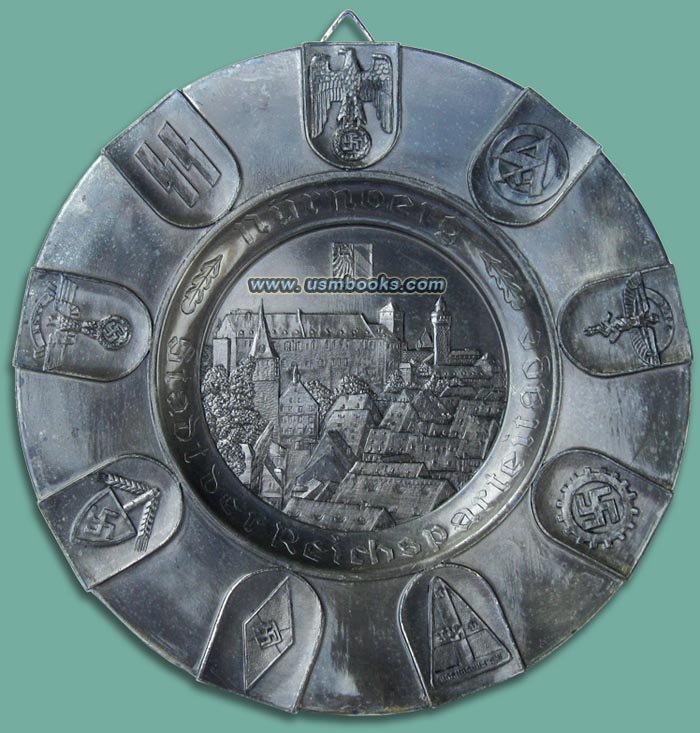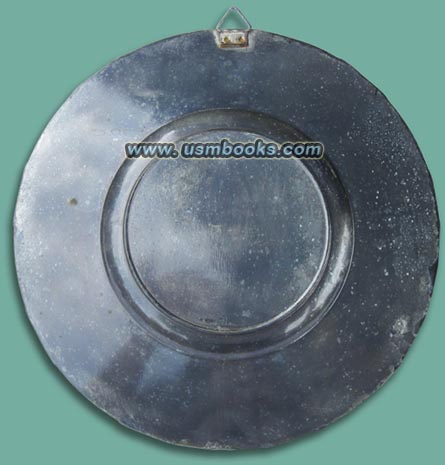 This is a splendid original 8 inch (200 mm) pewter souvenir plate from the City of Reichs Party Days - Nürnberg. It is one of at least two very similar plates that attendees to the Nuremberg Rallies could buy and take home as their personal souvenir of the greatest annual get-together in Germany in Nazi times. This plate has nine shields around the perimeter, each containing an emblem of the state or one of its paramilitary organizations.
The nine shields in high relief around the edge of this plate or contain the Hoheitszeichen or National Emblem of Third Reich Germany - a spread eagle clutching a wreath containing a squared swastika, SS runes, the SA emblem, the NSFK winged man, the DAF swastika in a cogged wheel, the NS-Frauenschaft triangle emblem, the Hitler Youth diamond emblem, the RAD spade with swastika emblem and the NSKK eagle and swastika.
In the center of the plate there is a relief of Nuremberg Fortress beneath the city Wappen or coat of arms surrounded by the words NÜRNBERG - STADT DER REICHSPARTEITAGE (Nuremberg - City of Reichs Party Days).
There is a triangular loop soldered on the back to facilitate hanging the plate on a wall. Very nice original condition with only a small ding at the bottom center between the Hitlerjugend and NS-Frauenschaft emblems. Weighs 1 pound 4 ounces (.57 kg). A bargain offered here at far less than on one of the "big name" collector websites!
This original Nazi paramilitary pewter Reichsparteitag Nürnberg plate is
**SOLD**.

• IF you prefer Priority Mail shipping with USPS delivery confirmation add $7.95.
• IF you wish to purchase highly recommended, but optional insurance, add $10.95.
• We will be happy to ship abroad at additional cost. Please inquire.
NAZI ERA PEWTER PARAMILITARY NUREMBERG SOUVENIR PLATE
RARE THIRD REICH NAZI PARAMILITARY
PEWTER SOUVENIR PLATE FROM
NÜRNBERG - DIE STADT DER REICHSPARTEITAGE
This USM Books website is Copyright © 2012 by USM, Inc., and the text and images on it are fully protected by international copyright law. It is therefore, illegal for anyone to take any of the material found here and use it for their own purposes without our written permission, irrespective of any excuse they may feel they have for doing so.