The images and text used on this and all other USM web pages are the copyrighted property
of USM Inc. Those images and the text may be used by others ONLY AFTER completion
of a formal international licensing agreement and payment of a licensing fee!
This 1940 Nazi photography book is **SOLD**.

We will be happy to ship abroad at additional cost. Please inquire.
USM book # 247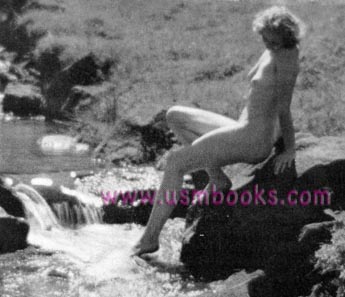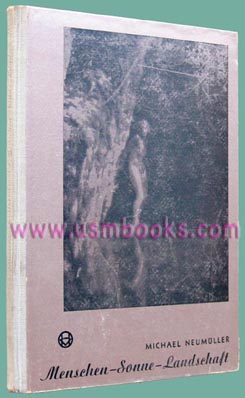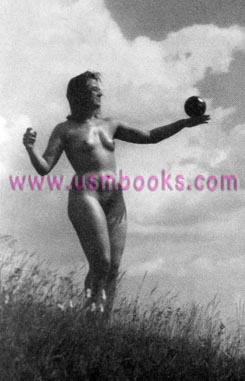 IMPORTANT: this is a 65+ year old book that contains photographs of many nude humans. If you are offended by full-frontal or other nudity, go no farther, and do not buy it.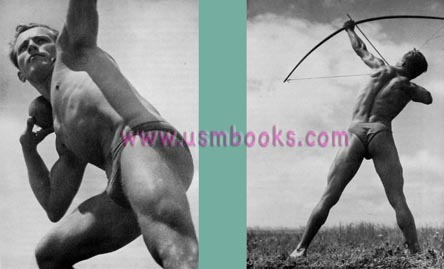 This is a First Edition example of the photo book Menschen - Sonne - Landschaft (People - Sun - Scenery) by Michael Neumüller as published by Verlag Dr. Othmar Helwich in Wien in 1940. The heavily illustrated 6-5/8 x 9-1/4 inch, 96 page hard cover book has 42 photographs by the author that illustrate how to show the human body, landscapes and scenery the best way in photography.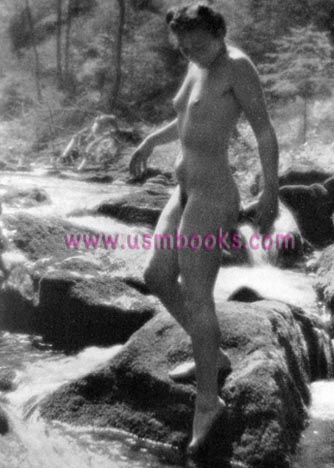 After an Preface by publisher Dr. Othmar Helwich (a photographer and author himself), Michael Neumüller starts with a section on landscape photography, which is followed by lakes, seas, fishermen, sailboats, swimmers, male and female athletes, children, women at the beach, naked women in mountain streams, and so on.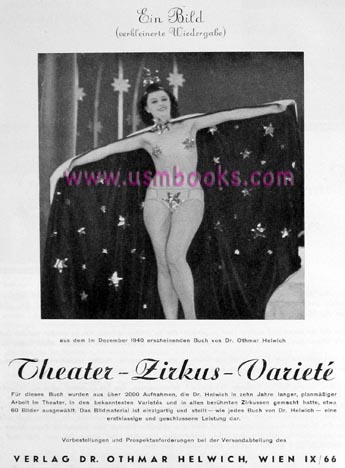 Each photograph has a caption mentioning the type of camera used (Leica, Rolleiflex, Ihagee, Rodenstock, Voigtländer, Zeiss-Ikon), type of film (Agfa, Kodak), filter, lamps, light bulbs (Osram), and at what time of year and time of day the photo was taken.
Menschen - Sonne - Landschaft ends with several pages of illustrated advertising for other photography books published by Verlag Dr. Othmar Helwich, Agfa film, cameras and camera filters. Very good condition.
NAZI PHOTOGRAPHY NUDES BOOK 1940
NAZI PHOTOGRAPHY STUDY BOOK
PEOPLE - SUN - SCENERY
This USM Books website is Copyright © 2010 by USM, Inc., and the text and images on it are fully protected by international copyright law. It is therefore, illegal for anyone to take any of the material found here and use it for their own purposes without our written permission, irrespective of any excuse they may feel they have for doing so.