The images and text used on this and all other USM web pages are the copyrighted property
of USM Inc. Those images and the text may be used by others ONLY AFTER completion
of a formal international licensing agreement and payment of a licensing fee!
---
PRE-NAZI
PINS, MEDALS AND BADGES
A NICE ASSORTMENT OF UNUSUAL PRE-NAZI PINS, BADGES AND MEDALS
This USM Books website is Copyright © 2012 by USM, Inc., and the text and images on it are fully protected by international copyright law. It is therefore, illegal for anyone to take any of the material found here and use it for their own purposes without our written permission, irrespective of any excuse they may feel they have for doing so.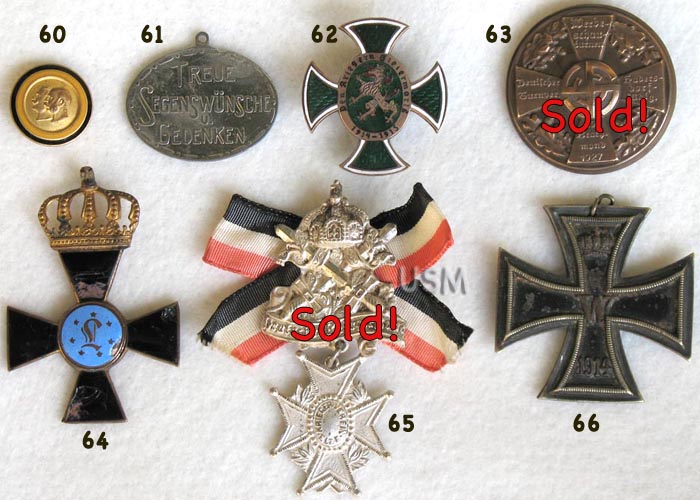 The
medals and badges shown in accompanying photographs are part of an accumulation of absolutely authentic pre-Third Reich material that we have gathered over the years. We have decided to offer them on the usmbooks.com website along with a selection of Nazi belt buckles, badges, medals and pre-Nazi German medals of various kinds (see links below). Some of these items are obscure and some are well-known. We have identified each item with a number and we show the complete item in close-up photographs of the front and back. If you need a larger picture, don't hesitate to ask. In the price list below, the number following the item number is the overall length of the pin and emblem in its longest direction in inches.
| | | |
| --- | --- | --- |
| | | |
| | 3/4 inch (18 mm) brass + cloisonné, back missing, Kaiser Wilhelm and Franz Josef | $15.00 delivered in the USA |
| | 1-3/8 inch (34 mm) nickel plated, Ernst Ludwig and Ellonore 24 December 1916 (see item 64) | $30.00 delivered in the USA |
| | 1-3/8 inch (34 mm) brass + cloisonné, Styrian (Steiermark, Austria) veteran 1914 - 1915 | $50.00 delivered in the USA |
| | 1-1/2 inch (38 mm) stamped brass 1927 Turnerverein | **SOLD** |
| | 2-1/4 inch (57 mm) cloisonné filled, marked GERMANY on the back. This item and item 61 are related to Ernst Ludwig of Hessen-Darmstadt. | $40.00 delivered in the USA |
| | 2-3/4 inch (70 mm) marked Lehmann Wundenberg, Hannover, Deutscher Krieger Bund Krieger Verein Elze | |
| | 1-11/16 inch (43 mm) magnetic center, German silver rim | $50.00 delivered in the USA |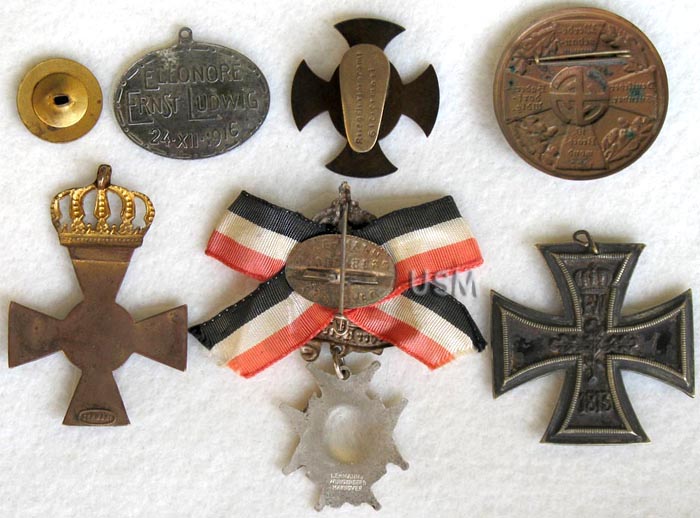 ! ORDER ONLY BY NUMBER PLEASE !