The images and text used on this and all other USM web pages are the copyrighted property
of USM Inc. Those images and the text may be used by others ONLY AFTER completion
of a formal international licensing agreement and payment of a licensing fee!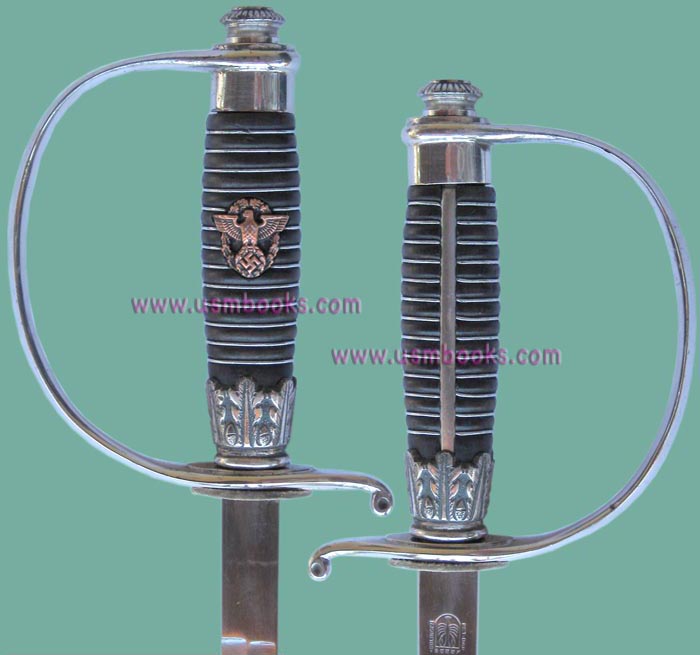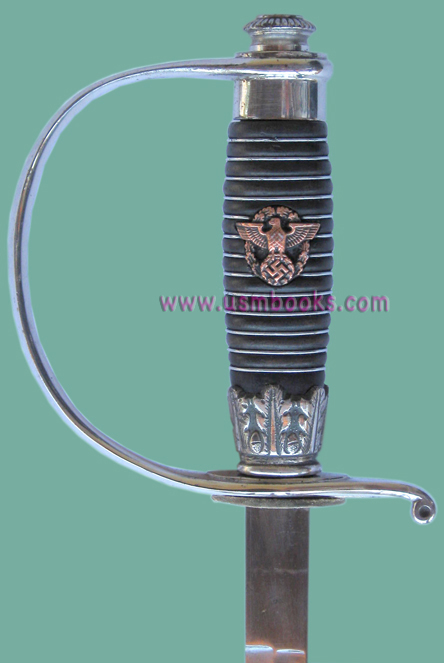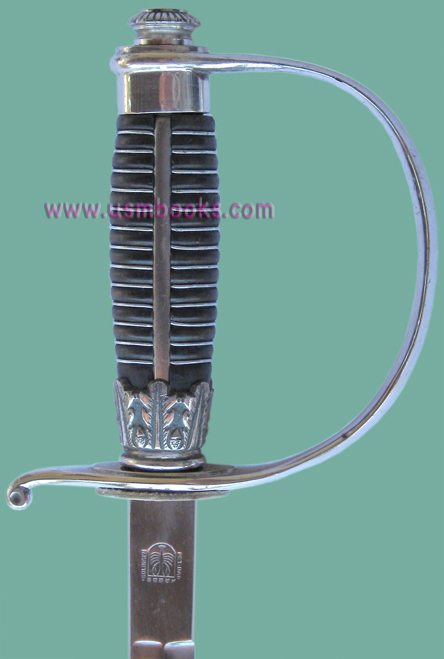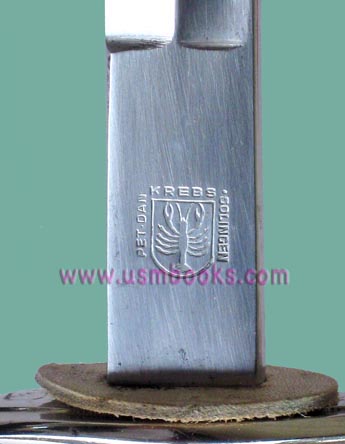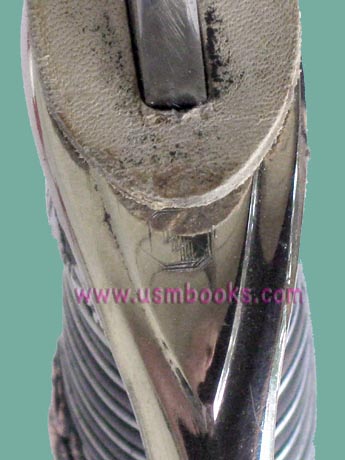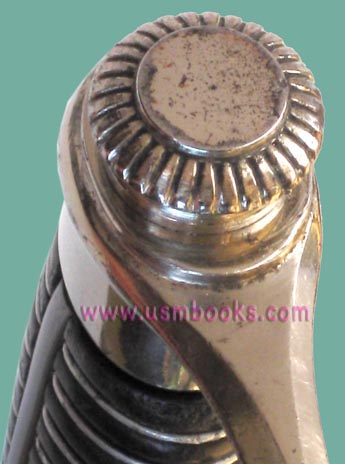 This is a very nice completely original example of a SS Officer sword with a 31 inch straight steel blade and an SS proof stamp on the front of the hand guard as made by the firm of Peter Daniel Krebs of Solingen, Germany during the Third Reich.

The wire wrapped wooden handle is stained black and has a copper police insignia embedded on the right side. All the metal pieces show about the sort of wear that one would expect on a ceremonial sword used in service over a period of years. There is no intentional damage, just honest service wear.
The white leather disk where the blade joins the hand guard is in very nice condition and partially covers the proof mark of SS runes in an octagon. The SS proof is not a clean single strike, but a double strike but it is exactly as it was applied in Solingen during the Third Reich.
There are none of the names, engraving, initials or serial numbers on this original sword that are so commonly added to many of the SS and Police Officer swords available in the market today. This one is just the way the man who owned it wore it. It has never been in the hands of a dealer until now. It is from a local South Dakota veteran estate.
The real defect in this otherwise splendid Nazi Police sword is that we have no scabbard for it. It was apparently lost somewhere along the line by the veteran that brought it back to the United States. The absence of the scabbard is reflected in the price.
This Peter Daniel Krebs Solingen Nazi police sword
is **SOLD**.
• Priority Mail & USPS delivery confirmation in the continental USA will cost $19.95.
• IF you wish to purchase optional insurance, add $7.95.
• We will be happy to ship abroad at additional cost. Please inquire.
Interested in a Carl Eickhorn Zieten Field Marshal series
Nazi Officer lion head sword? Click HERE.
NAZI POLICE OFFICER SWORD
THE SWORD OF A NAZI
POLICE OFFICER AS MADE
BY PET. DAN. KREBS
OF SOLINGEN
This USM Books website is Copyright © 2011 by USM, Inc., and the text and images on it are fully protected by international copyright law. It is therefore, illegal for anyone to take any of the material found here and use it for their own purposes without our written permission, irrespective of any excuse they may feel they have for doing so.